Episode 7 "The Rescue"
RYAN RISKS IT ALL ON 'THE O.C.' AIRING OCT. 29 ON FOX

While Marissa is in the hospital recovering from her overdose, everyone is concerned about her, but Julie vents her anger at Ryan. She blames him for all of Marissa's troubles and warns him to stay away from her daughter.
Meanwhile, Sandy is trying to get acclimated in his new job and is becoming friendly with co-worker, Rachel. Kristen is not happy about her husband's new relationship and it's apparent when she spots Jimmy and Rachel having an after-work cocktail.
The group of people who don't want Ryan around gets a new member Dr. Kim, the dean of Harbor High School. The dean is not happy about possibly having a student with a criminal background and makes Ryan take a placement exam that will determine whether he will be accepted into the school. During the exam Ryan risks his future at Harbor High and his future in Newport by abandoning the test to join Summer and Seth in an attempt to save Marissa from being sent away to San Diego. Will it be worth it?
Or will both Ryan and Marissa be forced to leave The O.C.?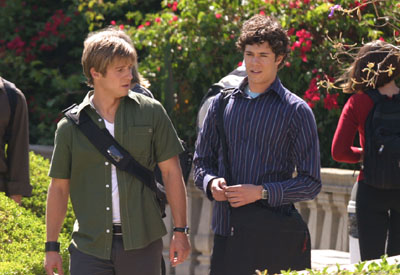 Episode 8 "The Heights"
MARISSA SHOWS RYAN EXACTLY HOW SHE FEELS ON 'THE O.C.' NOV. 5 ON FOX

The summer is officially over and it's the first day of school. Summer still ignores Seth in public, but privately is jealous of Seth's new relationship with Anna. Summer isn't the only person fighting feelings of jealousy.
Kirsten still isn't comfortable with Sandy's friendship with his new co-worker, Rachel. It doesn't help when Rachel offers Sandy a case against Kirsten's father, Caleb.
Back at school Marissa and Ryan are becoming closer, but Luke is still desperate to get Marissa back. When it looks like Luke may be getting exactly what he wants, Ryan lets his jealousy get the best of him and picks a fight with Luke. Marissa is not happy about the brawl and is not happy with Ryan. So, when the two of them find themselves alone on a ferris wheel, will she turn her back on him or forgive his jealous rage?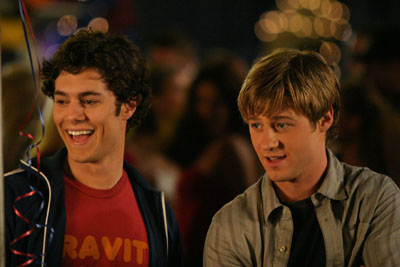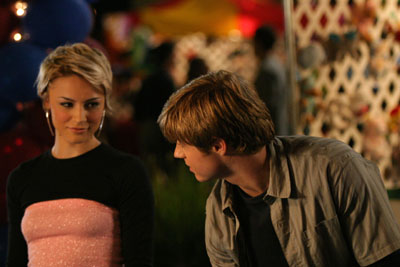 Episode 9 "The Perfect Couple"
JULIE'S NEW RELATIONSHIP IS OUTED ON 'THE O.C.' AIRING NOV. 12 ON FOX

Marissa and Ryan are one week into their relationship and are taking things slowly.
Summer tries to deny her true feelings for Seth, while Anna and Seth are getting closer.
The case against Caleb continues to cause friction between Sandy and Kirsten.
Julie tries to mend her relationship with Marissa, and asks Marissa, Jimmy and Ryan to attend her charity event where her new relationship is revealed in the "The Perfect Couple" episode of THE O.C. Wednesday, Nov. 12


Episode 10 "The Homecoming"
THE COHENS HOST A THANKSGIVING TO REMEMBER ON 'THE O.C.' AIRING NOV. 19 ON FOX

It's Thanksgiving and Seth is trying to choose between Summer and Anna, but ends up in a situation.
Meanwhile, Ryan decides to pay a visit his brother Trey in prison and Marissa goes along for the ride. When Julie finds out Marissa is with Ryan in Chino she's incensed.
All nervously wait at the Cohen house for their return from Chino and when tensions mount tempers begin to fly. The Cohen's host a Thanksgiving to remember when "The Homecoming" episode of The O.C. airs Wednesday, Nov. 19

Episode 11 "The Secret"
SECRETS ARE REVEALED ON 'THE O.C.' AIRING WEDNESDAY, NOV. 26, ON FOX

Turkey isn't the only thing left over from Thanksgiving. Anna and Summer are still upset with how Seth acted over the holiday and Seth is struggling to make it up to them.
Meanwhile, Julie is looking for commitment from Caleb, but when Caleb is honest about what he can offer, the couple decides to take a break.
Kirsten is keeping a secret from Sandy, and when Jimmy and Sandy team up to tackle Jimmy's legal issues, the indiscretion is brought to light.
And when Ryan and Luke become partners in a history project, an astonishing revelation creates an alliance between them on "The Secret" episode of THE O.C. on Wednesday, Nov. 26

Episode 12 "The Best Chrismukkah"
IT'S CHRISMUKKAH IN NEWPORT BEACH ON 'THE O.C.' AIRING WEDNESDAY, DEC. 3, ON FOX

Seth has combined both Hannukah and Christmas into his own, perfect holiday called Chrismukkah. It looks like this holiday season is going to be another smashing success until Summer and Anna force him to choose between them.
Ryan is weary of the holidays knowing that every other Christmas has involved family fights and watching his mom hit the bottle. He won't have to watch his mom drink this holiday season, but Marissa is having problems coping with her family situation and turns to alcohol to drink the holiday away.
Kirsten, fed up with her father's antics, takes her first vacation in years while Sandy continues the battle against Caleb's company in the fight to save the Heights. It's Chrismukkah in Newport Beach when "The Best Chrismukkah Ever" episode airs on THE O.C. Wednesday, Dec. 3

Episode 13 "The Countdown"
Anna and Summer have a conflict of interest they like each other but yet they both want Seth Cohen. It becomes a battle of the women but yet who will win?
Kirsten Sister Hailey Nichols makes a return to the OC after a 2 year trip around the world.
Hailey and Ryan battle it out for possession of the pool house but Ryan finds himself on the sofa without Hailey breaking a mental sweat.
Hailey throws a rager of a New Years Eve party while Sandy and Kirsten take a quiet night and dinner out of the house leaving Ryan and Seth acting forty something year old fuddy duddy types but in the end Ryan finds out why Hailey really returned.
Julie has found a new way to keep her in the style she wants she is touring Europe with Caleb Nichols
Episode 14 "The Third"
Oliver is not who he says he is and Marissa is trying to defend him to the rest of the group.
Seth has issues both Anna and Summer show for a concert they were to attend.
Seth gets no respect.
The third title is in refrence to all the triangles my head is spinning I cant keep the triangles straight to list.
I am guessing a large part of this episode is in a club and we have a guest band playing in this episode