News

Why The O.C. became a hit
Could it be viewers like cheese factor?
VINAY MENON
"Welcome to the O.C., bitch." Ryan Atwood (Benjamin McKenzie) was welcomed with those ridiculous, ghetto-inspired words after getting pummelled by Luke Ward (Chris Carmack) in the pilot of
The O.C.
As classic television lines go, Luke's testosterone-fuelled bon mot is probably not destined for the Smithsonian. But, looking back, it now seems appropriate. Since premiering in August, the dramedy (or, "soapedy," to use creator Josh Schwartz's neologism) has welcomed millions of weekly viewers to Orange County, Calif. by punching up the ridiculous. The season finale (Fox, CTV, 9 p.m. tonight) features a wedding between Julie Cooper (Melinda Clarke) and Caleb Nichol (Alan Dale). But if the past is a reliable guide, expect more to transpire in Newport Beach this evening. Of all new shows this season,
The O.C.
, somewhat improbably, has sizzled with the most cultural impact. Its impossibly beautiful stars are splashed atop magazine covers. The Internet is buzzing with devotional paeans, chat-room confessionals, and philosophical deconstruction "Is Mr. Oats an overt symptom of Seth's arrested development?" What started as a guilty pleasure is now appointment television, a maddening reality for those still too embarrassed to admit their addiction. Why is
The O.C.
so damn compelling? For a show so simple, this proves to be a rather complicated question. Consider the plotlines introduced by the pilot: Ryan and his brother steal a car. They crash. They are arrested. Ryan's brother is sentenced to three years. Ryan meets public defender Sandy Cohen (Peter Gallagher). Ryan leaves seedy Chino to live in the Cohen's palatial estate. Ryan spots Marissa (Mischa Barton). Ryan meets Seth (Adam Brody). Ryan and Seth go sailing. Marissa invites Ryan to a fashion show. Summer (Rachel Bilson) invites Ryan to an after-party. Seth has a crush on Summer. Summer is intrigued by Ryan. Ryan gets into a fight with Luke. Kirsten (Kelly Rowan) doesn't want Ryan in her house. Sandy drives Ryan back to Chino. Ryan's mom has already moved out. Sandy brings Ryan back to Newport to stay with them ... Okay, then. The pilot, with its torqued melodrama, comic relief, breezy dialogue, formulaic twists, bucolic backdrop, hipster score and tight inter-connections between characters, happens to be structurally identical to every episode that has followed. And millions of viewers can't get enough. At a time when the best television shows (
The Sopranos
,
Six Feet Under
,
The Wire
) are obsessed with gritty realism,
The O.C.
arrived with almost farcical, manufactured intent. You get the feeling nobody in the writing room ever asks, "Will the audience believe this?" This is storytelling that's not the least bit self-conscious. This is a show that believes the absurd is the sublime. This is escapism from the escapism. In one season, we've seen arrests (Ryan), suicide attempts (Marissa), car accidents (Luke), fires (Kirsten's model home), therapy (Marissa), shoplifting (Marissa), gay reveals (Luke's father), villainous gun intrigue (Oliver), pregnancy (Theresa), love triangles (Seth-Anna-Summer, Ryan-Marissa-Theresa), bizarre romantic hook-ups (Julie and Luke, Julie and Caleb), fraud investigations (Jimmy), casino nights, cocaine, cotillions, Vegas, prostitution, illegal poker games and more fist fights than a Jerry Springer highlights show. Secondary characters are introduced as stock composites, histrionic automatons programmed to wreak havoc on the posh SoCal milieu. The best example is Kirsten's sister Hailey, who was thrust into the proceedings as a flaky, drifting party girl. In the New Year's Eve episode she threw a wild, impromptu bash, trashing the Cohen home. She has since had a relationship with Jimmy and was discovered to be an exotic dancer. Other characters are routinely airlifted into the mix, not for what they do on their own, but for what they might do to the core cast (Oliver, Danny, Theresa, Eddie, Caleb's 24-year-old girlfriend, Julie's uncouth sister, Sandy's hot colleague, the Newport gossip queens). And millions of viewers still can't get enough. Much is made of the show's cross-generational appeal. Here, Schwartz deserves top marks for constructing both a teen and adult playground. But, unlike a more serious show such as
Everwood
, the genius of
The O.C.
's interplay between the kids and adults is that it's entirely inconsequential. On
The O.C.
, spectacle always trumps message. Now that
Sex And The City
and
Buffy The Vampire Slayer
are no more, now that
The West Wing
and
Gilmore Girls
are freefalling through creative decline,
The O.C.
has filled the void, taking over as the prime-time leader in fashion, music and witty banter. Part
Beverly Hills 90210
, part
Melrose Place
, part
Freaks And Geeks
, part
My So-Called Life
,
The O.C.
also has a playful, ironic ability to engage in self-mockery. Whether characters are exchanging quips about Russell Crowe (whom McKenzie is often compared to in real life) or meeting "actors" from "The Valley," a thinly veiled, show-within-a-show that deliberately spoofs
The O.C.
, it never takes itself too seriously.
The O.C.
is really a family-fantasy centred around the Cohens. It is a show that appears to be much edgier than it actually is. Its wild appeal can also be attributed to the "buddy" friendship between Ryan and Seth. In fact, Seth (Adam Brody) is the show's most important character. Moping about in his vintage T-shirts, occupied with video games and graphic novels, armed with withering sarcasm, Seth is the show's grounding centre and ironic oracle the geeky smartass called upon to provide commentary and scathing insights into the petty obsessions of those in his midst. As we approach tonight's finale, you could argue
The O.C.
is compelling simply because of this cast chemistry. The stories may be way, way out there but lurking within the far-fetched plots is a mix of endearing characters. And, maybe, that's why millions of viewers can't get enough.

Hot 'O.C.' ends big first season
By Diane Holloway
Associated Press
05/03/2004


AUSTIN, Texas -- The title is odd, an acronym that even many residents of Orange County didn't comprehend at first. And the cast was made up of mostly pretty young things who were complete unknowns.

So why is Fox's teen soap opera "The O.C." ending its first season Wednesday night as the hottest new drama on network television?

To start with, it's smart and clever. The writing is sharp and better than might be expected of a teen soap, the actors can actually act and the Southern California setting (in super-rich Newport Beach) is lush and lovely.

Of course, it doesn't hurt that "The O.C.," one of the highest-rated new shows of the season, airs right after the country's No. 1 blockbuster "American Idol." In the latest Nielsen ratings, "The O.C." was first among teens, which isn't surprising since there are few network prime-time shows aimed at that audience.

But it skews older, too; it's also first among viewers up to age 34. Several times the show has even beat NBC's prestigious "The West Wing" and CBS's goofy blue-collar comedy "King of Queens" in overall ratings. Broadway and movie actor Peter Gallagher, who heads the grown-up "O.C." cast, probably has something to do with that.

"I always thought it would skew a little older than the marketing people thought it would," says Benjamin McKenzie, 25, who stars as Ryan Atwood, the troubled teen taken in by public defender Sandy Cohen (Gallagher). "I think the show has a certain degree of intelligence in terms of writing and complexity of human relationships."

For those whose heads have been buried in sand other than the dunes of Newport Beach, "The O.C." blasted out of the gate last summer and was a hit right away. The pre-debut buzz was loud, and the post-debut buzz was nearly deafening.

"People were optimistic about our chances, but a lot of predicted hits fizzle out," said McKenzie in a phone interview from Los Angeles as he prepared to leave on vacation. "I'm surprised we've been as successful as we have."

We were first introduced to Ryan as he stole a car with his brother in Chino. Abandoned by his mother, he is bailed out of jail by lawyer Sandy, who takes him home to the mansion he shares with his socialite wife, Kirsten (Kelly Rowan), and their geeky son, Seth (Adam Brody) -- who, thanks to hanging out with brooding bad-guy Ryan, becomes something of a super-stud.

Conveniently housed next door is a season's worth of romantic melodrama. Failed businessman Jimmy Cooper (Tate Donovan) has a "history" with Kirsten; ex-wife Julie (Melinda Clarke) recently wound up engaged to Kirsten's father. And it only took one dreamy, puppy-dog look at Cooper daughter Marissa (Mischa Barton) for Ryan to go all weak in the knees.

Here's just a taste of the romantic entanglements that have ensued in the 26 episodes that have aired since August: Marissa broke up with her jock boyfriend Luke to be with Ryan. Luke moved on to an affair with Marissa's mother, Julie. But Julie soon ditched Luke to accept the aforementioned proposal from Kirsten's fabulously wealthy dad, Caleb. Got all that?

Created by Josh Schwartz, at 27 the youngest creator-producer working in network TV, "The O.C." has galloped along with a slow shift from heavy melodrama to clever comedy. Schwartz has dubbed his show a "soapedy," but it's also heavy on music, romance and sly self-awareness.

In one episode, Ryan and Marissa go see the movie "Master and Commander," after which Marissa says she didn't like the movie because "Russell Crowe doesn't really do it for me." The crack refers to descriptions of McKenzie as a dead ringer for a young Russell Crowe.

While "The O.C." has evolved from seriously melodramatic to lighter fun, McKenzie's brooding , sad-sack character has changed, too.

"Josh and I have been talking about the second season, and I think what they're trying to do is take Ryan from the archetypical bad boy he was created to be to something a bit more comedic," McKenzie said. "He was strong and silent but never actually said anything. But the writers have had enough faith to allow me to show different colors, so we'll continue to round him out."

As for Wednesday's season-ending 27th episode, Schwartz has promised an old-fashioned cliffhanger. Not surprisingly, everyone is mum on what will happen, but we do know that Theresa, Ryan's former girlfriend from Chino, has popped back into his life and that she is pregnant, possibly with Ryan's child.

McKenzie, son of Austin lawyer Pete Schenkkan and Austin poet-writer Frances Schenkkan, has gone from unknown to teen heartthrob in less than a year. So far, the University of Virginia grad (he studied economics and foreign affairs) has managed to keep his head from spinning.

"It's been quite a year," McKenzie said with measured understatement. "Professionally, things have changed a lot, and I'm working on expanding my opportunities. But personally, I'm the same guy I was before. I keep my family close to me."

Anonymity is a thing of the past, though, even in the grocery store at 7 a.m. But McKenzie says celebrity has not been overwhelming. He lives in the same Santa Monica apartment and drives the same car he bought last year when he landed the lead in "The O.C." He goes about business as usual with friends inside and outside show business.

"You don't let it turn into paralysis," he says. "But, you know, there are celebrities and there are celebrities. I'm no J-Lo. I'm just a kid on a TV show. And at this point, I'm thrilled to be working on the show."

Oh, and he's still single.

"It's not bad right now," McKenzie said brightly. "There's plenty of fun to be had."

During the show's hiatus, McKenzie will go to New York to see some plays and then fly to China for a vacation. He may try to squeeze in an independent feature, too. Then "The O.C." resumes production July 7.

After this week's cliffhanger, "O.C." fans will have to wait until October -- after baseball season -- to return to the juicy shenanigans in Newport Beach. It's going to be a very long summer.



HITTING THE HIGH NOTES
By MARY HUHN
May 4, 2004
-- THE story lines of "The O.C." may be getting tawdry, but its music is as edgy as ever - giving unknown bands valuable airtime.
" 'The O.C.' has given us the chance to reach millions," says Alex Greenwald, the frontman of Phantom Power, who sing the show's title track, "California." "The people behind 'The O.C.' know the audience would like to be turned on to new music."
The show has featured tunes by Johnathan Rice, Stars and Franz Ferdinand - bands usually reserved for college radio. And last week, the Beastie Boys chose "The O.C." to debut "Ch-Check It Out" from their upcoming album.
"Radio remains so bizarre and unreliable as an outlet for music that any other outlet is welcome," says Matthew Caws of Nada Surf, who covered "If You Leave" for a recent episode.
"We like the show. And it seems like the guy [executive producer Josh Schwartz] goes by his own taste.
And it makes a difference: After indie band Rooney performed on the show, their album sales spiked by 30,000 copies.

Hit teen show 'O.C.' gives fresh spin to old-time rocker Bob Seger
Foxs hit teen drama The O.C. is known for its witty dialogue, its rapid-fire pop culture references and its use of edgy, left-of-center music from artists such as Joseph Arthur, Jem and Death Cab for Cutie.
In other words, The O.C. is not the kind of place youd expect to see Bob Seger hanging out.
Yet Seger keeps cropping up on the show, which wraps up its first season tonight. His 1976 hit Night Moves has played on two episodes, and the shows resident villain queen, Julie Cooper (Melinda Clarke), cant seem to get enough of the Michigan rocker.
My wedding planner is a passive-aggressive nitwit who has the audacity to question my taste in music, she lamented in a recent episode. Bob Seger is not so over.
O.C. creator Josh Schwartz says he himself is a big Seger fan.
I love Bob Seger. Who doesnt love Bob Seger? says Schwartz, 27. How can you not love Bob Seger? Hes awesome.
He says the spirit of Seger speaks to the character Julie Cooper. You just have these connotations of people in bars, drinking beers and listening to Seger, and it just seemed like something Julie would do, Schwartz says.
Punch Enterprises, Segers management company, was approached with a request for the use of Night Moves in late January. They reviewed it and granted the show permission to use it for an undisclosed sum of money, though Schwartz notes it was the most expensive song they cleared all season.
But there was no way we werent getting it, he says. If we didnt have it, I dont know what we would have done.
The O.C. the first season is due on DVD in October has acted as a launching pad for bands such as Phantom Planet and Rooney to reach bigger audiences, but Schwartz thinks it may work in reverse with established artists like Seger too.
The younger portion of our audience doesnt know, necessarily, who Bob Seger is, Schwartz says. Im a fan of turning people on to older stuff, as well as stuff that isnt on the radio yet.

Posted 4/13/2004 9:53 PM


Five reasons you should watch 'The O.C. '
By Ken Barnes, USA TODAY
Disappointed with the way The West Wing is going sans-Sorkin? Looking for something a little different to fill your Wednesday night? Here are a few reasons to consider moving to The O.C.

The dialogue

When The O.C. is on a roll, no show except The Gilmore Girls matches the hilarity of its rapid-fire rants and clever asides. Seth's snide deprecation (self- and otherwise) are the main attraction, but Summer is a fount of sizzling sarcasm and Ryan and even Dad Sandy get off a few zingers now and then.

The acting

Adam Brody as Seth has parlayed a second-banana role into surprise breakout status with a deft portrayal of a smart-kid observer type who's willing to act the fool to achieve cool. Rachel Bilson gets overshadowed by one-dimensional Marissa but her caustic-yet-vulnerable Summer is nicely nuanced. Star Benjamin McKenzie is a good straight man as Ryan. Seth's parents, played by Kelly Rowan and Peter Gallagher (and his all-devouring eyebrows), play it straight with welcome dollops of edge and humor. Alan Dale as Caleb is a serviceable sub-J.R. hardcase business mogul. Mischa Barton throws a mean snit (three or four per episode).

The scenery

Most of the actual Orange County is made up of miles of freeways, tract houses and sunbaked strip malls, but Newport Beach is an enclave unto itself and it's showcased at its most gorgeous and envy-inspiring. That Cohen house may not survive global warming, but it's got a view to die for.

'The Valley'

A fictional teen soap used by O.C. creator Josh Schwartz and his minions to mock the living daylights out of their own show. Endless self-referential (but hardly reverential) bits make this arguably the standout episode (it aired March 24). It even pulled off the near-impossible feat of concocting a funny Paris Hilton cameo. Once it's on DVD it's sure to be pored over like an ancient biblical manuscript (the O.C. Scrolls?).

The time slot

Now that The West Wing is a pale shadow of its Aaron Sorkin-era self and Angel is on its way out, you've got no viable alternatives. And no, fetishes for Extreme Makeover and The King of Queens are no excuses.

One reason you might hesitate

It may transcend the typical teen soap in many respects, but The O.C. can aggravate you with its sudsier plot lines. Marissa's stubborn rebellions and tearful dissolutions will have you talking back to the TV, and the misadventures of Haley (Seth's aunt) are tedious time-wasters. If psychotic spoiled rich kid Oliver comes back, turn off the TV and go out to a movie. And why does every second episode feature a fistfight, almost invariably in the midst of a posh party or banquet?

Posted 4/21/2004 9:27 PM

'The O.C.' has a first season worth a party
By Bill Keveney, USA TODAY
LOS ANGELES It may seem like perpetual summer on The O.C., but cast members Tuesday were looking forward to the real thing after a busy, buzzy first season.

"I'm just going to relax and not set my alarm. It's so awesome," said Adam Brody, who joined fellow cast members at Hollywood's Falcon club for a party celebrating the Fox hit's debut season.

Castmates Benjamin McKenzie and Mischa Barton, who play on-again, off-again couple Ryan and Marissa, will go in opposite directions on the summer break. McKenzie will visit China, and Barton plans a trip to Europe.

Although production is done, the soap (9 p.m. ET/PT Wednesdays), which is a big hit with young viewers, has two more episodes. They culminate with a wedding between Julie Cooper (Melinda Clarke) and Caleb (Alan Dale) in the finale May 5.

Pop singer Jem, whose Just a Ride has played on the show and is on The O.C. soundtrack, plays the wedding singer and performs Paul McCartney's Maybe I'm Amazed.

"It was just fun," she said. But "I didn't get to seduce any of the cast."

Peter Gallagher, who plays lawyer dad Sandy Cohen, says viewers can look forward to "a marriage, a pregnancy, a fistfight or two, a couple of parties." But otherwise the cast was mum about late-season surprises.

Creator Josh Schwartz offered a cryptic hint: "We're building to this wedding, but the episode really isn't about that in the end."

As for next season, "we're going to introduce some new kids who will trouble the waters," said Schwartz, who added that Chris Carmack, whose character, Luke, is moving to Portland, Ore., could be back.

As fans clamored for autographs and reporters and cameramen clogged a Sunset Boulevard sidewalk, O.C. stars said they were becoming accustomed to new fame.

Brody got a kick out of being recognized by Queen Latifah in a drugstore. For McKenzie, a fan at a supermarket stood out: The man looked to be 70, not exactly in the show's core demographic.

The actors also get a laugh out of being associated with their characters' excesses, including Ryan's punch-happy combativeness and Marissa's teary breakdowns.

"I like to be able to play that dramatic side of things," says Barton, who attended without beau Brandon Davis.

"It's a joke among us: I'm the one who cries on demand. 'OK, we've got an emotional scene. Where's Mischa?' "

Brody had a glib response to a much-asked question: How much does he have in common with his character, cool geek Seth?

"We have similarities," Brody said. "We both have allergies."

Posted 4/21/2004 9:27 PM

'The O.C.' has a first season worth a party
By Bill Keveney, USA TODAY
LOS ANGELES It may seem like perpetual summer on The O.C., but cast members Tuesday were looking forward to the real thing after a busy, buzzy first season.

"I'm just going to relax and not set my alarm. It's so awesome," said Adam Brody, who joined fellow cast members at Hollywood's Falcon club for a party celebrating the Fox hit's debut season.

Castmates Benjamin McKenzie and Mischa Barton, who play on-again, off-again couple Ryan and Marissa, will go in opposite directions on the summer break. McKenzie will visit China, and Barton plans a trip to Europe.

Although production is done, the soap (9 p.m. ET/PT Wednesdays), which is a big hit with young viewers, has two more episodes. They culminate with a wedding between Julie Cooper (Melinda Clarke) and Caleb (Alan Dale) in the finale May 5.

Pop singer Jem, whose Just a Ride has played on the show and is on The O.C. soundtrack, plays the wedding singer and performs Paul McCartney's Maybe I'm Amazed.

"It was just fun," she said. But "I didn't get to seduce any of the cast."

Peter Gallagher, who plays lawyer dad Sandy Cohen, says viewers can look forward to "a marriage, a pregnancy, a fistfight or two, a couple of parties." But otherwise the cast was mum about late-season surprises.

Creator Josh Schwartz offered a cryptic hint: "We're building to this wedding, but the episode really isn't about that in the end."

As for next season, "we're going to introduce some new kids who will trouble the waters," said Schwartz, who added that Chris Carmack, whose character, Luke, is moving to Portland, Ore., could be back.

As fans clamored for autographs and reporters and cameramen clogged a Sunset Boulevard sidewalk, O.C. stars said they were becoming accustomed to new fame.

Brody got a kick out of being recognized by Queen Latifah in a drugstore. For McKenzie, a fan at a supermarket stood out: The man looked to be 70, not exactly in the show's core demographic.

The actors also get a laugh out of being associated with their characters' excesses, including Ryan's punch-happy combativeness and Marissa's teary breakdowns.

"I like to be able to play that dramatic side of things," says Barton, who attended without beau Brandon Davis.

"It's a joke among us: I'm the one who cries on demand. 'OK, we've got an emotional scene. Where's Mischa?' "

Brody had a glib response to a much-asked question: How much does he have in common with his character, cool geek Seth?

"We have similarities," Brody said. "We both have allergies."

'O.C.' Cast Party: Lots Of Clues About Season Finale, No Fistfights
04.21.2004 5:41 PM EDT


Mischa Barton at "The O.C." wrap party
Photo: MTV News


HOLLYWOOD Finally an "O.C." party without a fistfight.

The cast of FOX's hit drama gathered at hotspot Falcon on Tuesday night to celebrate the first season finale, which the cast finished shooting Friday and will air May 5.

(Click to see photos from the party.)

As the teen girls lined along Sunset Boulevard exchanged waves with Mischa Barton and company, dozens of reporters and photographers prodded "The O.C." stars for details on the season's final three episodes.

"I'm going to tell you ... nothing," said a bubbly Rachel Bilson, who plays Summer on the show.

"I already got reprimanded for saying too much to you guys, actually," added Benjamin McKenzie (Ryan Atwood), who revealed a bit about the finale to MTV News at the recent Nickelodeon Kids' Choice Awards (see " 'O.C.' Stars Hint At What To Expect On Season Finale")."I can say there's one hell of a cliffhanger at the end. Ryan is faced with a really tough decision. The last few episodes are really strong heartwarming and heartbreaking at the same time."



Not all the stars' lips were so sealed.

"There's a pregnancy involved, and there are a lot of questions, but I think Sandy's probably not a prime suspect," Peter Gallagher joked about his character. "Those days are over. I'm stalwart and true."

Other cast members revealed the finale will be wrapped around the controversial wedding of Melinda Clarke's Julie Cooper character and Alan Dale's older Caleb Nichol.

"I end up going to this wedding between my ex-wife and this guy that I hate, this guy right here," Tate Donovan (Jimmy Cooper) said, pointing toward Dale. "It's a bit of a mystery to me, but you've gotta do what's written."

Perhaps Donovan's character won't have as much to be jealous about after all. "I walk down the aisle, but does it really happen? Who's having second thoughts?" Clarke asked with a wink while producer McG walked up behind her. "And who's this McG guy? And what's up with that name?"

"I know, so arrogant," McG deadpanned.

Clarke was all smiles Tuesday but said shooting the wedding scene on a cold cliff was not as enjoyable as it might sound. "It's not nearly as fun as your own wedding," she said. "You have to wear the dress but you don't get to have the reception and the drinks."

The wedding was delightful for singer Jem (see "Jem Out To Make People Forget All About The Holograms"), who made her acting debut in the scene, singing Paul McCartney's "Maybe I'm Amazed."

"I was really flattered they asked, even though I never imagined I would be a wedding singer," Jem said Tuesday as she walked along the white carpet in front of Falcon. "It's my first red carpet and it's white," she added with a laugh.

With the season wrapped, all of the cast members are planning long vacations. Not that the actors aren't excited about returning for season two.

"I just want my character to continue to be three-dimensional," McKenzie said. "Bring him a little bit away from the bad boy, brooding thing we've created and show more of his different sides his sensitive side, romantic side, comedic side, ambitious side, intellectual side give me plenty of stuff to play with as an actor."

"I like what they've been doing," Brody said. "I wouldn't change anything, except if we could have Seth move to L.A. say, Hollywood and build a set a block from my house. I would like to see that happen."

A few minutes later, while Brody and McKenzie posed for pictures, a tattooed young man drove by in a pickup and shouted profanities at the cast.

On "The O.C." it might have started a fight, but Tuesday it was just something else to laugh at.

'O.C.' Secrets From the Wrap Party

From Benjamin Mackenzie, Mischa Barton and Adam Brody to Peter Gallagher, Rachel Bilson and Tate Donovan, the stars from FOX's hit show, "The O.C.," made the trek to LA, Tuesday night, for their first season wrap party.

Wednesday night on the cult hit, things heat up between Jimmy and Haley, while Julie plans a wild wedding.

But when "Extra" crashed the wrap party, we wanted secrets about the season finale, and Donovan was happy to oblige, "You can expect a water fight between two very beautiful women." And Gallagher added, "We got a trip to Vegas in there."

But perhaps the always-hilarious Brody summed it up best: "There's laughter, there's tears, there's white teeth."

Executive producer "McG" even exposed some changes to look forward to next season: "A little more nudity on behalf of Ryan -- he's been going to the gym and we want to bring that to the forefront."

So how does Mackenzie feel about his freshman year on the hit? "I lucked out like nobodys business," he responded. "Its amazing, Ive gone from zero to sixty in one year."

Link to Ben video interview

http://extratv.warnerbros.com/daily...404/04_21c.html

Fanboy
The O.C.'s own Seth Cohen interviews his favorite band, Death Cab For Cutie.

Indie-pop rockers Death Cab for Cutie hung out with The O.C.'s Adam Brody at the Henry Fonda Music Box Theatre in Hollywood, California. Before the venue opened its doors to the line of fans that stretched all the way down the block, Adam went backstage to conduct his first interview as a reporter for ELLEgirl. Turns out that DCFC is not only one of Adam's favorite bands in real life, it's also one of his character's (he even gave one of their CDs to both Summer and Anna for "Chrismukkah"). Check out Adam's chat with lead singer/guitarist Ben Gibbardand check out DCFC's latest, Transatlanticism (Barsuk).


Adam Brody: First of all, I think I know, but for everyone else, where does your name come from?
Ben Gibbard: "Death Cab for Cutie" is a song by the Bonzo Dog Band, a '60s spoof band from the U.K.

AB: What are your influences?
BG: We're currently watching a lot of VH1 Classicit's the best channel ever.

AB: Are you guys an emo band? And if so . . . what does that mean.
BG : I don't think we are. We played a show a few years ago, and this girl said to us, "I like emo music." And I was like, "Oh, like the Afghan Whigs?" I was thinking really emotionally draining, heartfelt music. And she's like, "Oh noI like the Get Up Kids and the Promise Ring and Jimmy Eat World." I was like, "Oh. . . ." It's bad to categorize.

AB: Yeah, I don't get it, either. I mean, I'm glad you don't know, either. Is there any band that you get compared to a lot?
BG: Early on, we got a lot of Built to Spill comparisons, and I read something that compared us to Dashboard Confessional. But nothing that has annoyed us.

AB: Your music is featured on The O.C., and now I'm interviewing you for ELLEgirl. Do you worry about selling out?
BG: Nah. I don't really see how having songs on TV or in movies is selling out. I think it's great for Death Cab to be on The O.C. There aren't a lot of people who will even notice, so it's kind of like a cool inside joke.

AB: Not long ago, I saw a photo of Conor Oberst of Bright Eyes making out with Winona Ryder in a parking lot. What celebrity would you like to get caught making out with in a parking lot?
BG: I don't think I want to be caught with anyone! But recently I was flipping through a People magazine and I saw that picture and was like, "Oh my God!" Every time I saw Conor, I would want to ask him, "What's going on?" But I resisted. I'm sure he hears it enough.

AB: Okay, last question: Do you like L.A.?
BG: I'm from Seattle, where there's a sense of freedom. Here I feel . . . claustrophobic. But there's this gravity that's pulling everyone to L.A., because there are so many opportunities and it's so romantic.

AB: That's why I came. I was 18, and I wasn't an actor yet, but I believed it could happen . . .
BG: . . . and now you're on one of the most successful TV shows! That's what this city is all about: "I'm just a regular kid from San Diego, and I moved to L.A. and I made it."

THE OC PARTY (RAW SOTS)

(anchor lead)
A TOAST FOR THE GANG OF THE O-C!
THE CAST FROM FOX'S HIT SHOW ARE CELEBRATING THE SUCCESS OF THEIR FIRST SEASON.
FANS CAN'T GET ENOUGH OF THE SHOW.
SINCE ITS PREMIERE, THOUSANDS HAVE BEEN TUNING IN EACH WEEK TO SEE RYAN, MARISSA, SETH AND THE REST OF THE GANG LIVE OUT THEIR LIVES.. IN THE GLAMOROUS CITY OF NEWPORT BEACH.
(raw sots)
AMANDA RIGHETTI says: "you know i think the way that fox really pushed it, it's very beverly hills 90210 of our generation and its surprising to see how much of a following its gotten but it's, everyone deserves it.. it's given to them.

(little more risqué?)
AMANDA RIGHETTI says: "yeah it is. but it's a little more fun, i think it has tat thing that everybody want to tune in. they want to know what happens to those characters and there's a certain sense of involvement that you get into.. if you miss one week, you're like 'oh my gosh, what happens?'"

(how do you deal with the tabloids?)
AMANDA RIGHETTI says: "well, i think that, i think as long as you sort of stay true to yourself we all sort of know on the set what the truth is and it doesn't impede as much as people think it does. it's a very down to earth cast."

PETER GALLAGHER says: "i'm taken a back anytime anything succeeds especially when i'm in it. it's really a miraculous event. yes, because it doesn't happen very often in anyone's career. if it happens a couple of times it's really great. this has been a wonderful year. especially because i love the show i love.. and when i decided to do it a year ago, wow.. that was like my first car.. a 68 cougar. um, i'm back.."

PETER GALLAGHER says: "yes, my plane will be landing any minute. i just got off my flight from new york by the way. disclaimer.. so what were we talking about?"

(dealing with success?)
PETER GALLAGHER says: "so i've been going non-stop since we've been shooting so i haven't really had a chance to sit down an appreciate all that's transpired in the past year. but i feel good, i was just saying that it feels like i've finished a round of golf and laying a little tired but ready to go for another eighteen. i'm looking forward to the next season and the stories josh and the gang might be breaking and i think sandy will be a big part of it."

(what would you like to see happen?)
PETER GALLAGHER says: "it will have absolutely no bearing on what will happen what i might.. i haven't put much energy into where i'd like to go, i think i got the general felling that sandy will be back as a public defender or some kind of criminal defense work. i think it's a really good idea, closer to where he lives and breathes. and beyond that, part of the thrill of doing a show like this is being served up with a new script every week and seeing where it takes you, where you can take it and it's what i love most about this work which is all relatively new."

PETER GALLAGHER says: "geez, Noah. i can't think of.. sandy i think is gonna stay pretty close to home. there may be a dream sequence, but other than that i'm not sure."

PETER GALLAGHER says: "you know, i haven't found any bad and i'm not gonna look to hard for it. so far there's been a lot of good and and.. that's good."

BEN MCKENZIE says: "u, it is fun to be approached for the first time and certainly happened a lot since the first time in august wen the show came on.. it's weird. you never get of over the fact that people recognize you when you go."

BEN MCKENZIE says: "i think we'll continue to keep it interesting and continue to keep the show as fast paced as it has been . it think that's one oft he things fans enjoyed the most. every week there's a lot of action, there's a cliff hanger every week action, romance, comedy, a little drama.. continue to mix it up, but honestly i don't know what happens in season 2. they haven't told me. they're still coming up with it."

BEN MCKENZIE says: "i can't tell you anything."

(real life from character?)
BEN MCKENZIE says: "well it parallels my life a little bit in the sense that when i was out here in LA before the show i was living the life that ryan was living outside of the alcoholic mother and abusive father and all that. i was living paycheck to paycheck and so the path he's going down entering the life of wealth and glamour to my experience here in LA this year. other than that, we're pretty different. normal kid from texas."

(on fame and being tabloid fodder)
BEN MCKENZIE says: "You've gotta take it with a grain of salt. I try to shrug most of it off. People are going to write what they write. One of the bargains that you make is that your private life will be examined. For better or for worse."

(on what he would like to see happen with his character.)
BEN MCKENZIE says, "Yeah, I think we should mix it up a bit..show his faults a little more, his weaknesses. I want to try to keep his character as 3 dimensional as possible because there's a tendency to get stuck in the brooding bad boy thing and we want to show a different color..his sensitive side, his intelligent side."

(on how the internet says his birthday was in April but it was really in December.)
ADAM BRODY says, "I feel so bad because my birthday is December the 15th so I turned 24 last December the 15th. For some reason on the internet on IMDB or whatever it says that wrong date is. I'm not computer savvy, I don't know how to change it. I don't really care, it never really bothered me until on my wrong birthday these people are like, "Adam there are girls outside the gate that brought a cake for you and they want to give you your birthday cake and I'm like, "What?" And I read that in a magazine and then Fox sent me a DVD player, which I kept and I'm going to keep, but I feel bad for it not being my birthday where the girls brought me a cake saying, "Happy Birthday Adam" like I had somehow wronged them. Ok, in that sense I was a little pissed."

(on his character's popularity)
ADAM BRODY says, "..The coolest thing for me is that my friends are in a pilot for Fox and the girl who plays his sister on the show in her room on the set is a picture of me." It's so cool! I love when I can pop up all over my friends lives when they don't want me anymore. I'm here, I'm there. They can't get a way from me. It's awesome. It's great!"

(on coming back for a second season and the chemistry with his co-stars)
ADAM BRODY says, "I'm looking forward to it. We're call kind of in our prime and we're comfortable. It's not easy it's hard work, but it's a comfortable environment. i'll miss them at the end of the summer..until thanksgiving. then i'll hate them again."

(on suddenly being in tabloids and in entertainment magazines)
RACHEL BILSON says, "i subscribe to oc weekly and i read it all the time but you have to know that some stuff is not true and i've experienced it a little bit"

(on the show's success)
MISCHA BARTON says, " i don't think you can ever assume if something is going to be successful but it is a little mind blowing yeah."

(on the growth of her character, Marisa)
MISCHA BARTON says, "even from the begining of this season till the end she's become a completely different person in a sense, she's grown up so much and she's had to deal w/ things and next season is gonna be even more of that."
(anchor tag)
THE BOYS HEAD OFF TO LAS VEGAS TONIGHT.. BUT IS THE CITY OF SIN TOO MUCH TO HANDLE FOR THE GUYS FROM THE O-C?
IT'S ALL ON FOX... TONIGHT AT NINE P-M EASTERN.

OC-DOES-VEGAS

SOURCE: KSAZ/PHOENIX

SCRIPT:
(anchor lead)
"THE O-C", FOX'S HIT SHOW, IS LEAVING ORANGE COUNTY BEHIND.
AS THE SHOW WINDS UP ITS FIRST SEASON - SOME OF THE BOYS GET A SPECIAL TREATA BACHELOR PARTY TO LAS VEGAS.
NOT TO BE LEFT OUT, FOX'S SABRA GERTSCH JOINED THE FUN WHEN TONIGHT'S EPISODE WAS SHOT ON THE FAMOUS VEGAS STRIPAS SHE TELLS US TONIGHT, THE BOYS SEEMED TO HAVE A PRETTY GOOD TIME.

(take pkg)

(anchor tag)
THE O-C'S FIRST SEASON WRAPS UP NEXT WEDENSDAY NIGHT - RIGHT HERE ON FOX.


ADAM: it's pretty crazy

IT'S HIP--

TATE: you know it's terrible...

IT'S HOT--

TATE: it's such hard work

IT'S HOLLYWOOD

TATE: to be out here in the sun with all the women...

FANS EVERYWHERE CAN'T WAIT TO O-D ON THE O-C..

ADAM: it's pretty unbelievable to think how sort of quickly it did take off...

TONIGHT'S EPISODE DID TAKE OFF ---
THE LIGHTS
CAMERA-
AND ALL THE ACTION....

DIRECTOR: "ACTION"

GOT OUTTA TOWN...
DROPPING O-C ..
FOR THE BIG L.V......

PETER GALLAGHER: we all love the vegas.

CAST AND CREW PACKED UP AND MOVED THE O-C TO LAS VEGAS---
POOLSIDE AT THE HARDROCK HOTEL AND CASINO...

QUICK SABRA STANDUP: one week out of the studio in the sun...and we got to go backstage...

ADAM: i'm actually African American..so to play seth cowen is weird for me...

THE KINDA QUIRKY ADAM BRODY---- YOU PROBABLY KNOW HIM AS THE KINDA NERDY ORANGE COUNTY NATIVE SETH COHEN....HE'S NOT GOING FOR A SWIM....BECAUSE HIS TAN WILL WASH OFF-----

ADAM: im waiting for someone to be like seth cowen ...DUDE....

DUDE!! WHAT'S UP WITH THE NEWS THAT YOU'RE NOT ONLY DATING ONE OF YOUR LEADING LADIES ON SCREEN-- BUT BEHIND THE SCENES AS WELL?

ADAM: are you asking me out...

LET'S TRY THAT ONE MORE TIME....

SABRA AND ADAM: so you're not going to confirm or deny.... i don't talk about personal life....

LOOKING VERY RUSSEL-CROWE-LIKE THE STAR OF THE SHOW--- BEN MCKENZIE HAD PLENTY SAY ABOUT THE RUMORS SWIRLING AROUND HIS SUPPOSED ROMANCE WITH CO-STAR MISCHA BARTON---

BEN: thank God she now has a boyfriend settle the whole thing we're not dating we never were dating totally we're friends i love her to death...

SORRY MISCHA--
ONLY MEN ALLOWED TODAY
THIS EPISODE SUPPOSED TO BE BACHELOR PARTY
TONIGHT WE FOUND OUT SOME BAD NEWS FOR TATE DONOVAN'S CHARACTER, PETER GALLAGHER TRIES TO EASE THE BLOW....THE BOYS ON THE BEACH FIND A WORKING GIRL... WORKING THEM OVER....SOMEONE IS PREGNANT.....BUT WHO IS THE FATHER????

ASSISTANT DIRECTOR : "BACKGROUND"

WE'RE ALL CHOMPING AT THE BIT TO KNOW---
I THUMBED THROUGH THE SCRIPT LOOKING FOR A CLUE--BUT THE CLINCHER IN NEXT WEEKS' SEASON FINALE IS TOP SECRET...

DIRECTOR: cut!!! winner! pay the line..let's go moving on!!!!

BEN: I'm a great kid...i would never gamble or do any of that fun stuff in vegas..no, no never...

WHAT HAPPENS IN VEGAS STAYS IN VEGAS....

PETER GALLAGHER: im not much of a gambling man.
TATE DONOVAN: adam doesn't gamble... well some actors do... the real old tough ones..but we're all whimpy...

THE FROM BLUE SKIES AND SWIMMING POOL SPRAWL----

SABRA STANDUP to rolling the dice inside the hardrock hotel and casino in las vegas one of the stars of the show told us he thought the series itself was a gamble.....

TATE DONOVAN: to tell you the truth i liked it ..i didn't htink it was gonna be that much a success...i've done a lot of pilots and they all tank ..generally when i'm on them ...

THE O-C IS SLATED FOR A SECOND SEASON---- NO SURPRISE!!!!

no....because the work i've done is just so...good..what are you going to do cancel..magic??

BEFORE WE GO WE GO FANS IN PHOENIX WANNA KNOW..IS THERE AN ARIZONA CONNECTION... ANYONE?

BEN: never been to phoenix im so sorry i hear it's lovely......
PETER: you know im dying to go phoenix becaue i love to golf ,,,,

TATE: have you been to phoenix do you like to golf? uh, im not a big... TURN THE CAMERA OFF.... we're done..we're done!!!!
SABRA GERTSCH FOX TEN NEWS.

'O.C.' Star Hands Out Sandy Cohen Fellowship
(Tuesday, April 27 01:03 PM)


LOS ANGELES (Zap2it.com) - When a group of "O.C."-loving law students at the University of California-Berkeley created the Sandy Cohen Fellowship earlier this year, they hoped to have Peter Gallagher on hand to present the award.
After all, it's named after the character he plays on the FOX drama, do-gooding one-time public defender Sandy Cohen. The $2,000 scholarship goes toward an internship in a public defender's office for a student at Boalt Hall, Berkeley's law school.

Gallagher went his Boalt fans one better -- not only showing up to present the award, but also kicking in half the amount of the fellowship.


"I didn't want to just throw some cabbage their way," Gallagher tells the Oakland Tribune. "These are people about to go out into the world to make a positive impact."
Gallagher, a graduate of Tufts University, says a brief stint at UC-Berkeley in the early 1970s convinced him to pursue a living in showbiz. "It was here at Berkeley a couple of years ago -- well, a couple of years before most of you were born -- that I chucked a conventional career to become an actor," he says.

Boalt student Jason Balitzer won the Sandy Cohen Fellowship. He says he was only an occasional "O.C." viewer before hearing about the fellowship, "[b]ut I watch it all the time now."

Chris Carmack Exits The O.C.
by Daniel R. Coleridge


Last week, fans of The O.C. were majorly bummed, dude. How could the teen soap's best-looking bad boy, Luke Ward, be packed off to Portland? At the season's start, he made a big bang with his signature catchphrase: "Welcome to the O.C., bitch!" He bullied Ryan, cheated on girlfriend Marissa after taking her virginity then seduced Marissa's mom, Julie Cooper. He was bad, but he looked damn good doing it. Here, TV Guide Online asks 23-year-old Chris Carmack why Luke had to go, and learns what's next for the fan fave.



TV Guide Online: Though the producers deny it, rumor has it a salary dispute made them decide against bringing you back next season.

Chris Carmack: There was no salary dispute. They were unsure where the character was going to go. He started out as an antagonist, became a bit of a protagonist a character you cared about and that grew. I don't know what precipitated the choices the writers made about writing him off. But they talked to me about it, and I understand how that goes.

TVGO: Seems strange he'd suddenly move to Portland with his gay dad.

Carmack: Luke has hurt so many people on the show and has done things you can't defend. How can he keep going at this pace? He came to his senses and chose to distance himself to give everyone a chance to get back to normal, because he keeps screwing stuff up. I think it's the most mature decision he's made this whole season. It felt very natural.

TVGO: What about Luke's personality switcheroo? He starts off as a jerk, fighting Ryan over Marissa. Then, Luke's dad comes out, he endures some teasing and, suddenly, he's a sweetie and best buds with Ryan. Did you mind him changing so quickly?

Carmack: It didn't at all. What happened was that something went very awry in Luke's life that made him think and reevaluate things. His parents are divorcing, he's got two younger siblings lost in the mess and, all of a sudden, the girlfriend thing isn't that big of a deal. I don't think it was as big a switcheroo as it seems.

TVGO: How did you feel about Luke's affair with Marissa's mother, Julie?

Carmack: [Laughs] I certainly didn't have any objections. Melinda Clarke and I had a blast working on those scenes.

TVGO:It's funny that Melinda's barely a dozen years your senior, but she's playing your ex's mother.

Carmack: I know. If you want to talk reality, she's like a smidgen older than my last girlfriend!

TVGO: What's next for you?

Carmack: I'll be in a movie called The Last Ride, which will be on the USA Network June 2. It's about street-racing and revenge. It's also about three generations of men in a family. Dennis Hopper is my grandfather and Will Patton plays my father. The O.C. was imperative in me [getting] this project. It's a great stepping stone.

Mischa, Rachel and Samaire did an interview in Being Girl's relationship issue:

Love Under the Sun

The girls of The OC, Mischa Barton, Rachel Bilson and Samaire Armstrong, help us understand the opposite sex.

What do you look for in a guy?

Barton- Im not the average girl, I dont go for the tall, dark and handsome type, I think personality comes first, I mean he can be good-looking but can I talk to him, do we have anything in common, that is whats important.

Bilson- I like a guy that cares enough to want to make me laugh, a good sense of humor is key. Im not into the classic Ken doll types, Im into the more natural, subtle good looks and a great smile, really thats what I first notice, when he smiles at me, and all I can do is smile back.

Armstrong- I look for compatibility, I have to be able to be friends with that person, if not hes not for me, we have to be able to go out and have a good time in each others company.

What makes a relationship successful?

Barton- Communication and honesty, if you cant talk to someone and tell them things, there is no way its working.

Bilson- I think the best relationships arent planned, like your intentions arent necessarily romantic at first, but then you start feeling these things and its like whoa!

Armstrong- Relationships are about compromise, you have to realize that now your actions dont just affect you, but someone else, too.

Describe your ideal date.

Barton- I am a sap for romance, like you see in movies where the guy takes her on like a candle lit dinner by the beach, I could totally get into that, but then I could seriously just rock out at a concert all the same.

Bilson- Im into spontaneous things, it doesnt have to be mapped out like oh were going to do dinner from 5 to 7 and thenId rather be with someone who is going to be like lets go scare the hell out of ourselves at a haunted house or lets go surfing!

Armstrong- I like simple things, like a walk down the beach or pier, or just curling up on the couch and watching comedies together.

P.J. Mirkin

Guilty as charged: 'The O.C.' is OK with me

Guilty pleasures. I've got plenty of them. For those of you who aren't skilled at interpreting context clues, guilty pleasures are things you enjoy that you know you probably shouldn't enjoy but that you enjoy all the same.
And the fact that you feel guilty enjoying them makes them, oddly, even more enjoyable.
Several months ago, common sense forced me to eliminate my favorite guiltiest guilty pleasure. The two helpings of Braum's peanut butter cup frozen yogurt I was inhaling every night just stopped fitting in with my fitness plans.
Luckily, about that time, I found a replacement guilty pleasure that's just as sweet without the calories.
It's a television show you've probably heard of called "The O.C." It airs on Fox (KSAS Channels 4/24) at 8 p.m. on Wednesday nights.
I'm not the only one who hates myself for loving the "The O.C." either. It's been earning all sorts of attention and critical praise.
It was recently featured on the cover of "Entertainment Weekly" magazine, for example. And in the ultimate validation of my devotion, VH1 recently honored it as last year's "Biggest Guiltiest Pleasure" on its awards show, "VH1 Big in '03." This was a two-fer because the "Big in 03" awards show was a big 'ole guilty pleasure all its own.
But I digress.
If you haven't yet allowed yourself to experience "The O.C." (or just feel too guilty to admit that you have), here's a primer.
The show is a teen soap opera set in an ultra-rich neighborhood in Newport Beach, California.
The zip code there is 92663, not 90210, but there are several similarities between "The O.C." and that Beverly Hills show many of us grew up watching.
It's another fish-out-of-water story, but instead of naive Midwesterners Brenda and Brandon Walsh, "The O.C." is centered on Ryan Atwood, played by dreamy Russell Crowe look-alike Benjamin McKenzie.
Ryan's from Chino, also known as the wrong side of the tracks. Sensitive and smart, he nonetheless gets himself into trouble with the law, and his deadbeat mother is no help. The public defender assigned to him is wealthy do-gooder Sandy Cohen (played by Peter Gallagher) of Newport Beach.
Sandy has a rich, hot wife and a wise-acre son back in his mansion in Orange County. Sandy sees Ryan's potential and brings him home to live in his ocean-side house and become his misfit son's new best friend and surrogate brother.
"The O.C." is much more sophisticated than its Beverly Hills predecessor. It's laugh-out-loud funny in a smart way, and it manages to tackle issues like teen substance abuse without all the "After School Special" schlock.
Adults can enjoy "The O.C" just as much as teenagers, too, because the grownups in the show are sexy, interesting and have story lines all their own, unlike poor Jim and Cindy Walsh, who were reduced to spineless set decorations on "90210."
So why do I feel so guilty about this guilty pleasure?
Shouldn't I feel guiltier about listening to Neil Diamond? About following the details of Britney Spears' life? About... well, I think I've revealed enough about myself already.
The truth is, I'm not exactly a teenager anymore, and I realize that it's kind of dippy to get hooked on a show about rich high schoolers and the dramas of their debutante balls.
But I'm not alone.
I recently found out that several of my friends are closet fans of "The O.C." as well.
For instance, I was wishing my friend Maria a "Merry Chrismukkah," a hilarious phrase coined by Adam Brody's character Seth Cohen on the "The O.C.' s" Christmas episode. Seth's dad is Jewish but his mom isn't, so he observes both Christmas and Hanukkah.
Maria's in a similar situation, so I thought the greeting was appropriate. Instead of thanking me, though, she e-mailed me back immediately.
"YOU WATCH 'THE O.C.' TOO?" she demanded.
Now, Maria and I exchange e-mails every Thursday morning with our thoughts on the previous night's episode.
She's also not a teenager. In fact, she's a mother of two. I like to envision her putting the kids to bed, grabbing a couple of their Oreos and a juice box and dashing downstairs to indulge her guilty pleasure.
Another person who loves "The O.C." is multi-talented local radio personality Ted Woodward.
He's also not a teenager and doesn't even have the excuse of being female. But he admits his "O.C." guilty pleasure loud and proud.
Ted's sister, Anne, turned him onto the show after the World Series was over, and now he can't stop watching.
"I've started referring to Sedgwick County as 'The S.C.,'" he said. "I'm hoping it'll catch on."
While we wait for that to happen, would you do me a favor?
E-mail me at
dneil@wichitaeagle.com
and confess your guilty pleasure. If I get enough responses, I'll write a follow-up article on the topic.
I'll title it something like "The guilty pleasures of The S.C

Mar. 24, 2004. 01:00 AM
The O.C.'s ode to Canada
Toronto native's career on hot streak Vancouver movie

in works for summer

JIM BAWDEN
TELEVISION COLUMNIST

Sharing the spotlight on American TV's biggest hit of the season "is pretty wonderful stuff," says Toronto's Kelly Rowan. She stars as TV's most beautiful mom, the picture-perfect Kirsten in The O.C., the hour-long drama about the lifestyles of the rich and spoiled of Orange County.

"I did go to Newport (Calif.) to look around, do some homework," she allows. And she thinks the luxury location is one of the reasons the series has caught on. "America has a lot of problems right now: the war, the financial scandals. There's a lot of doubt out there, which we dramatize. The scenery is so perfect but the people living here have big problems."

Rowan is one of the biggest reasons for the series' breakout success. She's as beautiful as any of the teenaged girls on the show and she plays a woman born into wealth who is determined to keep her job as a powerful businesswoman as well as have a family.

"We wait for the scripts and the writing is so outstanding, it's all there for us," she says.

Creator Josh Shwartz, 27, who writes most of the dialogue, peppers each hour with witty talk and obscure references. The pilot has been nominated for a Writers Guild of America award as the year's best TV script.

Rowan says, "There's not that much for an actress my age in either TV or movies. I mean, a part that's not a cliché. When I read the first script I was pretty eager to do it. Most movies don't have this range."

Initial reviews focused on Kirsten's meanness, "which I didn't get. I mean her husband brings home this teenager with troubles and she's the one who has to voice the objections." Over the year, she has grown closer to the boy, Ryan (Benjamin McKenzie). And the series has changed, too, from the melodramatics of the first few episodes to more heartfelt banter.

Just don't call the show 92660 to Rowan's face. True, everybody on the show is impossibly beautiful and most are rich just like the old series Beverly Hills 90210. And some of the actors are too old to play teens and Rowan at 36 looks far too young to have a teenager as old as Seth (Adam Brody). "The math doesn't pan out," she giggles. "Kristen supposedly met her husband Sandy (Peter Gallagher) in college."

Born in Canada's capital but raised in Toronto, Rowan went to Northern Secondary and then the University of Western Ontario, where she studied English (before dropping out). "The idea of acting as a living hadn't hit me. I was doing commercials to support myself and then I got on a Canadian TV series, Mount Royal. I got to go to Paris and that was it. I was hooked."

She moved to New York to study at the prestigious Neighborhood Playhouse "and assumed I was headed for a theatre career."

But TV and movie projects got in the way and in 1987 she copped a Gemini award playing a psychopath in the Canadian TV feature Adrift. "Then nothing. I literally didn't work."

So she moved to Los Angeles and has come back to Canada for special projects she was in the series Lonesome Dove, did a Vancouver episode of DaVinci's Inquest, went to Nova Scotia for the Harlequin romance Loving Evangeline.

Her movie appearances include 187 opposite Samuel L. Jackson (1997), Candyman 2 (1995), Three To Tango (1999) with and Late Last Night (1999).

The O.C. jump-started the TV season with an August debut and Fox intended it would run 13 weeks before baseball playoffs kicked in. The show's galloping popularity forced several revisions and Rowan says she's starting another batch "which will take us up to 27 episodes. The network wants fresh hours to run during the May sweeps."

With her newfound visibility, Rowan is looking for an acting project for the summer break. She's already set to co-produce a Vancouver-based movie adapted from the novel Tracing Iris by Genni Gunn.

"I've got to get back to the theatre but there isn't enough time this summer. I'm just enjoying this time, enjoying the work most of all."

March 22, 2004, 10:51AM
Young man in charge
'O.C.' creator Josh Schwartz gets a rare chance at age 27
By ARI POSNER
Copyright 2004 New York Times News Service

MANHATTAN BEACH, Calif. -- When you see Josh Schwartz on the set of The O.C., Fox's hit teen drama, it's easy to mistake him for one of the casually hip actors who pretend to be high school students on the show.

But Schwartz is no actor, and his days on the set are rare. Most of the time, he's holed up in his modest Hollywood apartment, where he has spent the past year furiously writing or revising every one of the show's first 27 episodes.
J. Emilio Flores / New York Times
It's been a big year for 27-year-old Josh Schwartz, creator of Fox's successful teen drama The O.C.

It has been quite a year for Schwartz. Almost overnight, the 27-year-old has gone from obscure screenwriter to the youngest person in network history to create and produce his own one-hour series. The show (8 p.m. Wednesdays, Channel 26), is the season's highest-ranked new drama in the coveted 12-17 and 18-34 age brackets. Since the pilot went on the air in August, Schwartz's script has been nominated for a Writers Guild Award, and he was signed to a multimillion-dollar deal by Warner Bros. to keep him producing The O.C. and developing new shows. And in the strangest tribute yet, a law students club at the University of California, Berkeley, has formalized its devotion to Sandy Cohen -- the feisty public defender played on the show by Peter Gallagher -- by establishing the Sandy Cohen Fellowship to support work in the Orange County public defender's office.

Schwartz has arrived at this point without so much as a day's previous experience on the staff of a TV show. "I have never seen anyone take to this medium as quickly as he has," said Marcy Ross, Fox's senior vice president of current programming. "I mean, sure, he's lost a lot of weight, he's falling apart, he does nothing but work. But he was born to do this."

Until recently, Schwartz's achievement would have been all but unthinkable. Network television was a strict dues-paying culture. Writers sweated it out for years on other people's shows -- earning arcane titles like "executive story editor" and "supervising producer" -- before getting a shot at creating their own. But lately those rules are being rewritten. "Networks are now clamoring for fresh voices that they otherwise would not have looked toward," said Rick Rosen, a partner at the Endeavor agency, which represents Schwartz. "And that includes feature writers and younger writers with less experience."

The list of those who made the leap to show creator without first apprenticing on a staff includes J.J. Abrams (Felicity, Alias), Anthony Zuiker (CSI), Hank Steinberg (Without a Trace) and Ryan Murphy (Popular, Nip/Tuck). These writers aren't so much creating new television forms as they are endowing familiar ones -- the detective show or, in the case of The O.C., teen drama -- with freshness and intelligence.

Last month, sitting in his tidy office at Manhattan Beach Studios, where the show is filmed, Schwartz recalled the "Trojan horse" strategy by which he got Fox's attention. He was developing the show with McG (the director of the Charlie's Angels films) and McG's producing partner, Stephanie Savage.

"We knew Fox was looking for their next 90210," he said -- Beverly Hills 90210, that is -- but "90210 was not a show I watched or particularly liked or wanted to do." A lifelong Cameron Crowe fan, with a framed Fast Times at Ridgemont High poster on the wall beside his desk, he had always preferred quirkier character-driven shows, like Freaks and Geeks, Undeclared and My So-Called Life. "You can't tell a network that's what you want to make, because they'll just say, `Those shows lasted 15 episodes, and they're off the air, and we don't want them.' But if instead you go to Fox and say, `This is your new 90210' -- that's something they can get excited about."

So Schwartz and Savage cleverly constructed a pilot -- the tale of Ryan Atwood, a gentle young hoodlum who finds himself living among the beautiful people of the titular Orange County -- that pushed every glamour-teen button they could think of. "That's why it's got a bonfire on the beach and Karate Kid without the karate, and a fashion show and a big bash with cocaine," he said. At the same time, however, "we felt we had this story that was organic to that world of beaches and sunshine and wealthy people. And really what we hoped we had were these characters that were a little bit funnier and more soulful and different and specific than the kinds you usually see in that genre. They would be the soldiers inside our Trojan horse."

To a remarkable extent, Schwartz pulled it off, sneaking a truly smart show past the gatekeepers in the guise of something commercial and trashy and fun. The O.C. hits what Allan Heinberg, one of its co-executive producers, likes to call "the pleasure centers" inherent in a sexy soap, and the writers lay on the tumult pretty thick, especially when the sensitive bad boy Ryan (Benjamin McKenzie) is involved in one of his innumerable fistfights (which prompted one Web site to begin a weekly tally called the "punch count"). But The O.C. has steered clear of both Aaron Spelling-style camp and the soggy earnestness that often characterizes teen drama. Instead, it traffics in fizzy banter and knowing humor -- characters watch a teen soap called "The Valley"; the actors' peculiarities are mocked, as when Peter Gallagher's character is teased for his industrial-strength eyebrows.

The O.C. is also notable for the way it integrates compelling adult characters into teen drama, bringing the two groups together in ways both realistic and -- when the gods of melodrama require it -- outrageous (one character hooks up with his ex-girlfriend's mom).

"For me it was sort of an organic thing," Schwartz said. "And then, of course, everyone was like, `Yesss, and we can reach a broader demographic this way as well.' " He laughed. "The coolest thing for me, in terms of how the show's been received, is how much people have taken to the parents. As much as our audience enjoys living vicariously in this wealthy world, I think the true wish fulfillment comes from wishing that they had a family like the Cohens -- where the parents could be that cool and that grounded and that loving but also real parents."

IInitially, Fox wanted an experienced show runner, but Schwartz resisted. "The last thing you want is someone who comes in and puts this, like, 1970s television, Baretta, this-is-how-we-did-it-on-Hunter-kid philosophy on your show." And it takes a special breed of veteran to tolerate sharing control with someone so young. "Then we met Bob DeLaurentiis and fell in love," Savage said.

DeLaurentiis, 56, is a 20-year TV veteran who has run many shows, including the recent NBC drama Providence. "It sounds New Agey to say this, but he has a really calm energy, he's really warm, and I think the most important thing for me is that he wanted Josh to succeed," said Savage.

Schwartz agreed. "It's not like writing a movie -- you still have to learn how to map out a season, how to track characters," he said. "It's not something I could've done by myself for the first time."

The O.C. speaks with many voices, but perhaps the most winning is that of Seth Cohen, Sandy's gawky son, played by the dazzling Adam Brody. Together, Schwartz and Brody have conjured something highly personal and refreshingly new: the nerd as hipster comedian. Indeed, the show has gradually tilted from Ryan, the newcomer to the O.C., toward Seth, the audience favorite -- who also happens to be the character most closely based on Schwartz.

"I don't want this to come out wrong," Brody said, "but I just think a young writer can write young slang young,

How Josh Schwartz and 'The O.C.' Beat Writer's Block
(Tuesday, March 23 04:00 PM)
By Daniel Fienberg


LOS ANGELES (Zap2it.com) - At FOX's January Press Tour party, Josh Schwartz, the 27-year-old creator of "The O.C." made an embarrassing confession. It's not as embarrassing as Seth Cohen (Adam Brody) admitting his failure as a first-time lover to his Chino-raised friend Ryan (Benjamin McKenzie), but a subject of chagrin nonetheless.
Schwartz, network television's youngest showrunner, was suffering his first bout of writer's block.

Nearly two months later, Schwartz can joke about that moment of near-insecurity.


"I got over it," he says simply. "I went to Vegas. I just got out of town."
After that intellectual dry spell and a temporary narrative hiccup involving a borderline psychotic named Oliver Trask, "The O.C.," like its youthful creator, has experienced a creative second wind in the later stages of its extra-long 27-episode first season. Learning the job on the run, Schwartz and his staff of writers ("Everything goes through my computer at some point," he says of the collaborative process) have had to make major character adjustments as the season progressed.

Viewers who haven't visited Schwartz's semi-fictionalized Newport Beach universe since the show's August premiere would have some difficulties recognizing the young characters (except for the fact that the actors who play them have seen their faces plastered on magazine covers, billboards and web sites).

Summer (Rachel Bilson) has developed from a sarcastic ice queen into a sympathetic romantic lead and the show's second most reliable source of one-liners. Luke (Chris Carmack) has gone from stereotypical, short-tempered jock to surprisingly endearing and bumbling doofus (some of the transitions haven't been quite so organic). And Ryan has gone from mumbling, monosyllabic, brawl-starting bad boy to, well, mumbling, monosyllabic, brawl-starting bad boy, but at least he sometimes makes jokes about his limitations.

"We always knew we wanted to -- especially with Luke and Summer -- really dimensionalize those characters," Schwartz says. "We always wanted to immediately go and start to show these other sides of those two. Seth, as I got to see what Brody did really well, I wanted to start writing towards that and making the character a little bit more extroverted."

The process of making comic readin', Shins-lovin', Captain Oats-ownin' social reject Seth into one of the show's heroes ran into a roadblock when, thanks to Brody, Seth actually became too cool and too popular. The show's Valentine's Day episode, which featured that awkward first sexual encounter, began the process of regeekifying Seth, a devolution which continued an episode later with a peculiar (and romantic) declaration of love.

"He stands on a giant coffee cart and announces to the world that he's a huge geek," Schwartz says of the "Some Kind of Wonderful"-inspired episode "The Telenovela." "That's letting him reconnect with that side of his character and retapping back into the mythology of that character as being this misfit, loner, outside who never fit in."

It's unlikely that Schwartz is going to allow Seth to regress too far, as it's clear that the creator viewers the character as something of a proxy for himself, in addition to as a source of inspiration for introverted fans everywhere.

"I think the lesson with Seth is that you stand up there on that coffee cart, you declare who you truly are and you might just get Summer as opposed to standing in the background and just naming your boat after her and never trying to talk to her," he says.

Just as those awkward Seths-in-training might feel as if the show is speaking directly to them, the show's burgeoning Internet fan base has noticed that many of their comments, concerns and jokes have worked their way onto the show. In past episodes, the metatextuality has included gags about McKenzie's resemblance to Russell Crowe, the show's occasional over-reliance on fistfights and the fact that Peter Gallagher's eyebrows often become entirely new characters. More than a few web sites have become convinced that they're Schwartz's one-stop shop for cyber-buzz.

"I can't reveal the sources because then they know and it just throws everything out of whack," he notes, before half-joking "I'm out there. I'm trolling in cyberspace. I'm highly sensitive to the criticisms of the general public and I'm here to please."

An example of the show at its most self-referential comes this Wednesday when "The O.C." returns several weeks of "American Idol"-based hiatus. Titled "The L.A.," Wednesday night's (March 24) episode finds Summer and Marissa hobnobbing with the stars of their favorite primetime soap "The Valley," including Colin Hanks who plays an actor named Grady Bridges who plays Jake Needleman, the Seth Cohen of "The Valley."

"Seth is, of course, jealous that he's going to lose Summer to the real-life TV Seth Cohen," is Schwartz's circular logic.

Another group that's watching is FOX's Standards and Practices department. "The O.C." has faced a bit of a crush because the Post-Janet Jackson Era began at same time as several of the show's characters were engulfing on sexual relationships.

The most notorious cut came in Summer's Stephanie Savage-penned come-on line "You don't even have to do anything. You can just lie there like a buffet, and I can serve myself," which was ultimately delivered to Seth sans buffet reference. The Valentine's episode also featured a pair of advisory warnings.

The network also had reservations about the May-September relationship between high school guy Luke and attractive, scheming mom Julie Cooper (Melinda Clarke).

"We had to throw in a line there at the last minute saying Luke was 18, even though we don't believe he is actually 18," Schwartz confesses. "It was the only way they'd let us get away with it and I'd much rather do the storyline. The idea is that he stayed back a year."

With storylines flowing from his word processor once again, Schwartz is looking forward to ending the season with a bang, but hopefully not too much of a bang.

"We're building to a cliffhanger, but it's not going to be a cliffhanger like the Tijuana episode," he promises." Oliver will not show up an take Marissa hostage and put her in the trunk of his car and drive off with her. I think it's going to be more of an emotional cliffhanger."

No Plan B for 'The O.C.'
(Wednesday, March 10 12:27 PM)
By Rick Porter


LOS ANGELES (Zap2it.com) - When writer Josh Schwartz and producer McG were developing "The O.C.," they were in fact building a Trojan horse.
They knew FOX was looking for a young adult-oriented drama, a latter-day "Beverly Hills, 90210." Schwartz, a Rhode Island native who came to Southern California for college, and McG, a self-described former nerd who grew up in Newport Beach, where the show is set, had something a little different in mind.

"We knew we could sell the world," Schwartz told a packed house Tuesday (March 9) at the Museum of Television and Radio's William S. Paley Festival. "Then we could have our characters inside be our little soldiers."


What Schwartz, McG & Co. have done with their little soldiers is tweak the idea of the teen soap with large doses of self-aware humor and adult characters who are as interesting as their kids. The results have been good for FOX, which is drawing decent-sized audiences (about 9.3 million viewers a week) and strong ratings among its target demographics of teens and young adults.
The equal emphasis on grown-ups helped attract Peter Gallagher, Kelly Rowan, Melinda Clarke and Tate Donovan to the cast and is a big reason why the series has earned critical favor as well as the adoration of younger viewers, a number of whom punctuated Tuesday's event with frequent squeals of "Whooo!"

"The adult stories are really what drew me in," says Doug Liman ("Swingers," "The Bourne Identity"), an executive producer of the show and director of its first two episodes. "It's not just teenagers running around. Peter and Kelly have created a home on the show that I kind of wish I'd grown up in."

Allan Heinberg, another executive producer who's also written several episodes, thinks the best parts of the show are scenes where the adult and teen storylines intersect. He just didn't think he'd see much of it.

"The shock for me is that we've been allowed to get away with it," he says. "I fully expected a Plan B, where the adult stories would get smaller and smaller."

Gallagher feigns shock at this remark, causing Schwartz to shush Heinberg: "You're not supposed to tell them about Plan B."

"I have a Plan C," Gallagher says.

It's apparent watching the cast and crew interact that the banter between characters on screen continues off camera. Gallagher says working on the show, his first series since the short-lived comedy "The Secret Lives of Men" in 1998, has been a pleasant surprise, starting from when FOX chief Gail Berman offered him the role right after his audition for her.

"There's a really humane vibe about the show that started there and really hasn't stopped," he says.

`O.C.' hottie broods his way to the big time; Robert Philpot
Knight-Ridder/Tribune News Service 03-11-2004

When Benjamin McKenzie sits down, you realize how much he's acting in his role on "The O.C.," Fox's entertainingly over-the top nighttime soap. The Texas-born actor broods through his role as 16-year-old Ryan Atwood, a kid from the wrong side of the tracks who winds up in a glossy part of California's Orange County, where he falls for the troubled girl next door. Along the way, he tangles with the rich kids and, occasionally, their parents.

In real life, the 25-year-old McKenzie isn't much of a brooder. In fact, he smiles a lot, sometimes in bemusement at the sudden attention he and his castmates have received since "The O.C." debuted last summer. Before that, McKenzie's only screen credits were guest appearances on "The District" and "JAG." Now, he's on magazine covers and reluctantly becoming a part of the L.A. party scene.

"First of all, I couldn't even have imagined that I would have a job like this," McKenzie says. "Second of all, (I couldn't imagine) that anyone would care where I am on a Saturday night or where I'm getting coffee or who I'm supposedly dating or not dating. The only people who cared about that before were me and my mom."

Forget about stardom; acting wasn't something McKenzie thought about while growing up in Austin, or through most of his time at the University of Virginia. His family remains in Austin -- his grandfather, Robert Schenkkan, was a founder of Austin public-TV station KLRU, the home of "Austin City Limits" -- and McKenzie returns there often.

"I went back over Thanksgiving and Christmas for a few days," he says during an interview in Beverly Hills, Calif. "It's pretty amusing going back. The family's absolutely the same. The parents still expect you to do the same chores. My brothers still give me tons of (guff) -- they find it highly amusing that I've entered the `teen heartthrob' territory."

When he was a teen, McKenzie's biggest role was as a football player at Austin High School, where he played strong safety and wide receiver. Although he's not like his "O.C." character, he did share Ryan's noncomformist side. He played football, but he didn't hang out with the jocks; he took honors courses, but didn't hang out with the brainy kids. He graduated in 1997, but he compares his Austin days to the movie "Dazed and Confused," which was shot at a rival high school just down the road from his school.

"That was set in the '70s, obviously, but it's the exact same thing as it is today," he says. "Guys ride around in their trucks, and they have a little bit shorter hair than they did in the '70s, but there's still keg parties in the woods, hazing the freshmen. . . . It's a pretty cliquey kind of environment all over, and certainly in Texas."

McKenzie's journey took him to the University of Virginia, where he received dual degrees -- in foreign affairs and economics. But like a lot of college students, he found himself drawn in another direction. He auditioned for a college play, got the part, enjoyed the experience, and was hanging around the drama department nearly full time by his senior year.

After graduation, McKenzie went to New York, where he spent about six months waiting tables without catching a big break. He decided to move to Los Angeles, where he stayed with family friend Ernie Sabella, who was the voice of Pumbaa the warthog in "The Lion King."

Considering that a year ago nobody knew who McKenzie was, he's still prone to a bit of "is that . . . ?" celebrity-gawking himself.

"(Ernie) let me crash at his place for a year in L.A. when I was trying to make it," he says. "First night out, we went to a Beverly Hills-ish restaurant that he knew of with a couple of friends, and Alec Baldwin was at the table next to us. Ernie had done something with Alec, or knew him or something from New York. And so he introduced me. So my first night in L.A., I go out to this swanky restaurant in the one suit that I own, and Alec Baldwin is shaking my hand. And he's a pretty intense guy, so it was an overwhelming experience.

"Of course, I didn't meet another celebrity for another six months. I was living in the valley in a rundown apartment," he adds. "But that night was, `Oh, this is what it could be like.' "

Despite McKenzie's skimpy credits, "O.C." producers saw something in his personality that reminded them of what they were looking for in Ryan. Or maybe they just saw an oft-noted resemblance to another actor.

"I guess I happen to look like Russell Crowe," McKenzie says. "If people get that about me or my temperament or something" -- he stops himself, then restarts with a chuckle, "Maybe not my temperament. If something about me reminds them of him, then it's OK. He's a great actor. If I were able to achieve one-tenth of what he's achieved, I would probably be a pretty happy man.

"It's kind of nice," he continues. "At least I don't get compared to (`Beverly Hills 90210's') Luke Perry. No offense -- no knock on Luke Perry -- but at least I'm being compared to a guy who's won an Academy Award and is a movie star."

Losing It Everwood and The O.C. head into virgin territory.; Entertainment Weekly 03-05-2004

Byline: Alynda Wheat

There were no very special episodes of Everwood or The O.C. this February sweeps. Just a couple of teen characters ditching their virginity--which used to be, you know, special. These days? Not so much.

In addition to the jaw-dropping casualness with which the teens divested themselves of the big V, there was a distinct lack of time-tested tele-virgin trauma. Absent were Party of Five's abortion issues or Buffy's literal demonization of sex. There wasn't even a Facts of Life c'mon-Natalie-his-name-is-Snake! moment. Turns out the new teen sex scare is performance anxiety. Call it the "Was it good for you?" factor. Witness The O.C.'s Seth postcoitus: "I sucked so bad. I was like a fish flopping around on dry land. I was Nemo, and I just wanted to go home."

Or Everwood, where Ephram and Madison's not-so-special moment turned mortifying after his, shall we say, enthusiasm got the better of him. And though Ephram's dad took a firm line on his son's late-night creeping, parental reaction on The O.C. was just plain creepy. We figured Seth was in for it when he fell for Pop's talk-to-me ruse and confessed he'd done the deed. The dirty old man's response? "You dog, you!"

Wednesday, February 11, 2004

Some TV show creators want nothing to do with audience feedback. Writing is a solitary, personal matter, they figure, and attempting to please several million viewers, each with their own likes and agendas, would lead only to madness.

Not Josh Schwartz . The 27-year-old creator of "The O.C." (9 p.m., Ch. 5) enjoys cruising message boards and chat rooms to find out what people are saying about his fizzy soap opera about the beautiful people of Orange County, Calif.



Caring about the fans' opinions, however, isn't the same as agreeing with them.

"I'm getting a lot of (heat) for Oliver," shrugs Schwartz, referring to the mendacious rich kid who's been trying to drive a wedge between lovebirds Ryan and Marissa ( Benjamin McKenzie and Mischa Barton ) for the last few episodes.

The audience has grown to despise Oliver ( Taylor Handley ), whose swan song airs tonight, but then, they hated other characters like jock Luke ( Chris Carmack ) and spoiled Summer ( Rachel Bilson ) at first, and by mid-season they were fan favorites.

"I think if you got to know anybody -- even Oliver -- over the course of 12 episodes, they wouldn't be truly evil," says Schwartz.

What about the constant comparisons to "Beverly Hills, 90210," a show Schwartz claims he never watched?

"We're funnier, and we're more Jewish."

To that end, December's episode about Chrismukkah (a "super-holiday" combining Chanukah's eight days of presents with Christmas' tree, lights and singing) will be followed this spring by a show about Passover. And it won't be a combo holiday this time.

"It won't be Eastover," says Schwartz. "We talked about it. But either you believe in the Resurrection or you don't. We thought, 'Chrismukkah, yes. Eastover, no.'"

Schwartz keeps trying to incorporate the criticism he gets into the scripts. After every TV writer in the country said McKenzie looks like Russell Crowe , Schwartz wrote a scene in which Marissa made the same comparison. When the city of Chino, which "O.C." depicts as a graffiti-riddled slum, complained that the show would keep them from attracting upscale businesses like the Chinese restaurant chain P.F. Chang's, Schwartz put a P.F. Chang's joke into a Chino-centric episode.

The rising popularity of Adam Brody as hipster nerd Seth Cohen inspired an upcoming episode in which Marissa and Summer get small parts on a show-within-the-show called "The Valley," with Summer falling for the actor playing the hipster nerd character there -- "So essentially she leaves Seth Cohen for Adam Brody."

For added weirdness, the role will be played by Colin Hanks , who starred in a recent movie called ... "Orange County."

And how does Schwartz know to rein in the in-jokes?

"There's no formula. When I go on the message boards and they go, 'We get it. Enough. Quit it,' well ... I'll still do it."

--Alan Sepinwall

The O.C.'s Trojan Horse
How a wiseguy beat out a brooding loner.
By Dennis Cass
Posted Thursday, Feb. 19, 2004, at 2:17 PM PT

Hey, Ryan: Quien es mas macho?

Last night, on The O.C. (Fox, Wednesday, 9 p.m. ET), Seth Cohen (Adam Brody) lost his virginity. Having recently broken up with Anna, the winsome alterna-chick who seemed to be his soul mate, Seth tracked down his original crush, Summer, as she finished up a game of Galaga in the student lounge. Summer, who had no desire to be Seth's second choice, rebuffed him, but Seth was not to be denied. He showed up at her bedroom door unannounced, took a moment to make fun of her purple stuffed unicorn, and then testified: "For me it's always been you, Summer," he said. "I've tried to fight it and I've tried to deny it. And I can't. I can't do it. You're undeniable."

Pretty smooth for a lonely teenager who started out the beginning of the series secreted away in a McMansion high on a hill, an only child with no friends and less self-esteem. And quite an improvement from his first exchange with Summer, when he blurted out, "I named my boat after you," and she replied, "Ew. Who are you?" In its introductory episodes last fall, when The O.C. centered on Ryan Atwood, the mixed-up kid from the wrong side of the tracks imported to live with Seth's family, Seth Cohen felt like he came with the house. But as The O.C.'s brilliant first season comes to an end, it's Seth who's proven to be more than occasional comic relief; he's the show's most compelling character. In recent episodes, two girls fought over him with surprising vigor; Seth vanquished a schoolyard rival who was trying to out-funny him; and he became an expert at verbally dressing down his parents. He still stammers and hesitates, but his confidence and charm far outweigh any insecurities. Losing his virginity, or so it seems, was merely a formality.

Series creator Josh Schwartzfor whom Seth may be a stand-inand his team of writers seem to have taken quite a shine to the guy. While other characters come close to overdosing or going to jail or being disowned by their fathers, Seth has been struggling with too much good fortune. Even his former enemies, such as the thick-headed Luke, are having as bad a time as he's having it good. "Suck it, queer," Luke said to Seth in the pilot, and since then, Luke has gone from big man on campus to pariah. He has lost his girlfriend and found out his dad is gay and been rejected by Summer for his lack of Seth-ness. Were it not for Seth's largessehe was kind enough to baby-sit his former enemy at a rock concertLuke might not have any friends at all.

As Seth's stock has risen the show has changed along with him. What was once shaping up to be Rebel Without a Cause: The Series has turned into one of the funniest shows on TV. The O.C. is still primarily a drama, but like The West Wing under Aaron Sorkin you get the feeling the creator's first love is comedic banter. Try to catch the Chrismukkah episode in repeats, and take out-of-season joy in Seth's made-up holiday. The episode where the kids road trip to Palm Springs is also a treat and features some nice Seth moments where he gets in touch with his inner old man. (How the writers manage to have him bring a humidifier on vacation and still have him come across as cool is a minor miracle.) Even the new, smooth-talking Seth is still self-deprecating and absurd. When telling Ryan about an embarrassing sexual encounter with Summer, he likens himself to a fish flopping around on dry land, critiques the nasal sounds he made, and notes that "There were some faces I made in the middle that I wish I could take back."

What a coupSeth has extracted revenge of jocks and bullies, outshone a romantic lead who is a dead ringer for Russell Crowe, and made scenes come alive even when he was just passing through. I like to think that this was creator Schwartz's intent all along: to sell Fox on a romantic outsider and then pull a switcheroo midseason. If this was all part of the plan, then The O.C. is both a great show and TV's first Trojan horse.



TV PLUS; TEEN SPIRIT; How accurate is TV's view of teenagers?; Amy Amatangelo
Boston Herald 02-22-2004

TV PLUS; TEEN SPIRIT; How accurate is TV's view of teenagers?
Byline: Amy Amatangelo
Edition: All Editions
Section: TV PLUS

Teenagers these days.

They're all over the place on the tube. Some networks practically cater to the under-20 population - WB is the channel that acne and teen angst built - while others pepper their line-ups with pouty adolescents. A scan across the dial finds some recognizable archetypes.
** The realistic teen: Joan (Amber Tamblyn) on CBS' "Joan of Arcadia."

Joan Girardi is moody, irrational, self-centered and unpredictable. She's prone to whining, stomping her feet and slamming doors.

Sound like any teen you know?

Even though she talks to God and has a divine mission of the week, Joan may be the most realistic teen on TV - if only there were more like her. It's no wonder that God first appeared to Joan as an oh-so-cute teenage boy.

** The sassy teen: Vanessa (Camille Winbush) on Fox's "The Bernie Mac Show."

As Bernie's oldest niece, Nessa is constantly rolling her eyes at her well-intentioned but clueless uncle. When she's not throwing attitude his way, she's asking for his money, fighting with her younger siblings or dating boys her uncle doesn't approve of. She's not afraid to tell Bernie when he's made a mistake. She'll tell him again and again. And the thing is, she's usually right. Bernie would be the first to admit he's a little afraid of Nessa, and it's easy to see why.

** The melancholy teen: Ephram (Gregory Smith) on WB's "Everwood."

As the series' protagonist, Ephram is dealing with his mother's death, forging a relationship with his father and navigating a messy love life. Confident, yet self-deprecatingly funny, he's in love with Amy (Emily VanCamp), who pines for her dead boyfriend. This season, Ephram began a romance with the much older college student who babysits his sister.

** The vengeful teen: Chloe (Allison Mack) on WB's "Smallville."

Alas, poor Chloe. We've all been there. She's like so totally in love with her best friend Clark Kent (Tom Welling.) He loves her, too - but just as a friend. And by her own admission, Chloe is doomed to date the series' kryptonite-laden freak of the week. What's a girl to do but team up with the dastardly Lionel Luthor (John Glover) and agree to investigate TV's dreamy boy hero? Sure, she finally rejected Lionel, but in the process, she lost her column at The Daily Planet and cost her father his job with the formidable Luthor Corporation, the only place in town to work. At least she can take comfort knowing she is far more interesting than Lana Lang (Kristin Kreuk).

** The pre-pubescent teen: Ruthie (Mackenzie Rosman) on WB's "7th Heaven."

Remember when there was nary a Walsh family member left in Beverly Hills? A similar problem has befallen the Camden clan on "7th Heaven." Most of the preacher's offspring have wised up and moved out of town, but Ruthie is still around and, heaven help us all, experiencing puberty this season.

WB's hit drama has never been rooted in that blasted concept of reality. The show has written itself into a corner where none of the kids can have sex before marriage - heck, they don't even seem to have any sexual urges. Therefore, every Camden kid has received multiple marriage proposals and anyone over the age of 18 is safely wedded. It's surprising the 5-year-old twins haven't been set up in some sort of arranged nuptials.

Now that Ruthie is dating boy-next-door Peter (Scotty Leavenworth), viewers should be very concerned that she'll be married off in the May season finale.

** The teen hero: J.J. (Will Estes) on NBC's "American Dreams."

This season on the NBC drama set in the '60s,` eldest Pryor son J.J. passed up college and joined the Marines. The protective older brother doesn't like anyone his sister Meg (Brittany Snow) dates and is adored by his younger siblings. Now the series has followed him to Vietnam, where J.J. has been accepted into a choice Marine division known as the Untouchables. While his fiance Beth (Rachel Boston) waits for him back home, he's already lost friends and seen the village of a Vietnamese family destroyed.

** The daft teen: Kelso (Ashton Kutchner) on Fox's "That '70s Show"

Like wow, man, the gang from Point Place, Wis., finally graduated from high school last season (it took them five years and they were juniors when the series started). And pretty-boy Kelso has undergone the biggest transformation. After having a one-night stand with a hot librarian (Shannon Elizabeth), he found out he was going to be a dad. So the perpetually clueless Kelso joined the police academy, got a second job as a waiter and seems to have fallen for the future mother of his child.

** The snobby teen: Summer (Rachel Bilson) on Fox's "The O.C."

While her pal Marissa is clearly the drama queen teen of Orange County, where fist-fights and drug overdoses are weekly occurrences, the label-conscious Summer got herself caught up in a nice little love triangle. Against her better judgment, she fell for geek supreme Seth Cohen (Adam Brody), who is slowly thawing "her icy heart." Seth is not the popular boy she envisioned herself dating. Since the premiere, the show has softened Summer's character and given her the opportunity to provide a little comic relief. ** The perfect teen: Rory (Alexis Bledel) on WB's `Gilmore Girls.

She doesn't smoke. She doesn't drink. She does all her homework. Her mom Lorelai (Lauren Graham) is her best friend. Loyal to her grandparents, never dressed in anything your own mother wouldn't let you out of the house in, adored by her small hometown, and now a studious freshman at Yale, Rory is the kind of girl you wish your son brought home from college. The trick of the show is that someone so faultless (an entire episode this season revolved around her trying to find the ideal place to study) could actually be interesting to watch week after week.

Band fends off music industry's sophomore slump with 2nd album;
Kent Kimes
Knight-Ridder/Tribune News Service 02-12-2004

You know you've made the big time when you're on ``The O.C.''

Doug Ardito, bassist for Puddle of Mudd, mused that, despite the band's track record, some folks still didn't take notice until the group's song ``Away From Me'' was featured in a recent episode of the popular Fox TV teen drama.

``They say, we heard you on `The O.C.' Wow, you really did make it,'' said Ardito in a recent phone conversation from Austin, Texas.

Never mind that the band sold more than 5 million copies of its 2001 debut album ``Come Clean'' and was awarded 2002's most-played song of the year honor by the American Society of Composers and Performers for the single ``Blurry.'' And so far, it appears Puddle of Mudd is avoiding the dreaded sophomore curse, as the ``O.C.''-worthy tune ``Away From Me,'' the first single from the band's second album, ``Life On Display,'' topped Billboard's Mainstream Rock Track chart and sits at No. 3 after 16 weeks.

It's a formidable accomplishment, considering the what-have-you-done-for-me lately environment of the music industry and radio programming, said Sean Ross, vice president of music and programming for Edison Media Research.

``These days, no successful debut act is exempt from the `sophomore slump' whispers until the record that proves otherwise is out and climbing the charts,'' said Ross, who writes the weekly syndicated column ``Ross on Radio.'' ``Their place at radio was hardly guaranteed.''

Ardito said the band didn't worry about that kind of stuff and just concentrated on putting its best batch of new songs on ``Life On Display,'' most of which were ``written on the back of the bus on acoustic guitars,'' he said.

Expectations and criticism were nothing new for Puddle of Mudd, which took knocks from such publications as Rolling Stone, labeling the band as neo-grunge and likening lead singer Wesley Scantlin to a Kurt Cobain impersonator.

``Everyone is ready to be a critic,'' Ardito said. ``But the pressure is always on us.''

The pressure he alluded to stems from the hype surrounding Puddle of Mudd being one of the first acts signed to Limp Bizkit frontman Fred Durst's Flawless Records. And then the expectations began to mount to come up with a follow-up to ``Come Clean,'' which produced four hit singles -- ``Drift and Die,'' ``Blurry,'' ``She Hates Me'' and ``Control.''

Next up for Puddle of Mudd is the release of another single, ``Heel Over Head,'' and there's been discussion of shooting an all-acoustic performance to be released as a DVD.

``It's all talk right now,'' Ardito said of the oft-rumored acoustic project.

Still, the burning question remains: Is Ardito a fan of ``The O.C.,'' a sort of ``Beverly Hills 90210'' for the new millennium?

``No, I don't watch the show,'' he said. ``But I know the whole world does.''

Bongo Announces New Advertising Campaign Featuring Rachel Bilson From Fox's Hit Show, 'The O.C.'
Thursday February 5, 9:00 am ET

# NEW YORK, Feb. 5 /PRNewswire/ -- Bongo, a division of Candie's, Inc. (Nasdaq: CAND - News) announced today that actress Rachel Bilson will play the lead role in the company's Spring 2004 national print advertising campaign for Bongo Jeans, Tops, Footwear, Swimwear, Handbags, Eyewear and Accessories. Rachel may be better known as "Summer" from Fox's hit show, "The O.C." This is the actress's first endorsement deal.(Photo: http://www.newscom.com/cgi-bin/prnh/20040205/NYTH031 )

Commenting on the campaign, Rachel Bilson, stated, "I was an endorsement virgin until Bongo called and I am so excited to be a representative of their line. It's really flattering that they wanted me to do it."

Neil Cole, CEO, Candie's, Inc., stated, "'The O.C.' is the standout show of the season, and Rachel and her character, Summer, both exemplify the Bongo girl. They are strong-minded, independent and a natural fit for Bongo."

Commenting on the creative direction of the campaign, Dari Marder, Creative Director, Candie's, Inc., stated, "This is an image campaign positioning Bongo as the leading fashion lifestyle brand for juniors. We shot Rachel in a funky, ethereal setting, juxtaposing an icy, cool background with a hot, sexy girl."

The ads feature Bongo Spring '04 products available in department and specialty stores nationwide. The campaign was shot by famed celebrity photographer, Davis Factor and created by Candie's in-house marketing and creative team. The ads will break in the March issue of InStyle and continue to run in fashion, entertainment, lifestyle magazines such as Seventeen, YM, Teen Vogue, Teen People and Elle Girl in the March, April and May issues.

Candie's, Inc. is in the business of licensing the CANDIE'S and BONGO trademarks on a variety of young women's footwear, apparel and fashion products, and is a leading designer, distributor and marketer of jeans wear under the BONGO brand through its wholly owned subsidiary, Unzipped Apparel, LLC. Through its wholly owned subsidiary Brightstar Footwear, Inc., the Company also arranges for the manufacture of footwear products for mass market and discount retailers under the private label brand of the retailer. For investor information please visit the corporate web site at http://www.candiesinc.com.

Ben McKenzie doesn't have it bad.

The 2001 College graduate has established himself in his chosen profession -- acting -- by landing the role of main character Ryan on Fox's hit new teen drama, "The O.C.," which airs at 9 p.m. tonight.

He took some time out of his busy shooting schedule -- his lunch break, to be exact -- to talk with The Cavalier Daily. Not every alumnus has a publicist.

As Ryan, McKenzie plays a teen with a troubled past, arrested for stealing a car with his brother and subsequently abandoned by his mother. He is taken in by his public defender, played by Peter Gallagher, and must transition from his working-class Chino past to the sometimes ridiculously opulent lifestyle of Orange County, California.

But McKenzie said Ryan's background has little in common with his own past.

"I was a football player, got a good degree from a great university -- little shout out to U.Va. there -- and I had a very wonderful family and grew up in a great environment," McKenzie said.

But he does feel he and Ryan are somewhat a match of personalities.

"I'm a fairly quiet, thoughtful, passionate guy, and I think Ryan is too," McKenzie said.

McKenzie's double majors, foreign affairs and economics, are not the most obvious for someone interested in acting, but he said that his interest in the theater didn't start until college.

"I came to U.Va. from Austin, Texas, where I played football and was not an actor -- I didn't have the guts to do it. When I came to U.Va. I didn't really know what I wanted to do, but I was intending to do something like politics or history or literature," McKenzie said. "But I tried out for a play and got cast, and I loved that experience and kept doing it again and again."

As graduation approached he wasn't sure whether he wanted to pursue acting or try something more conventional -- but eventually acting won out.

He spent the summer after graduation working with the Williamstown Theater Festival in Massachusetts and then moved to New York City in fall of 2001.

"It was right before Sept. 11. I got up there and it was a mess. The theater scene in large part shut down, so I waited tables and auditioned," he said. "I had the opportunity to go to L.A. so I packed a bag, figuring I'd be back in a week, but a week later I was still there and a year later I was still there."

And right after that he landed the job on "The O.C."

"It's a very 'go west young man seeking fame and fortune' kind of story," McKenzie said. "I had no plan. It was very haphazard. To be honest, in this business it's very haphazard how you make it anyway. You try to become a good actor by studying and working on it and then you give it a shot, and there's no way to guarantee success or failure."

His advice to students interested in following in his footsteps is to consider whether it's what you really want to do and then give it your all.

And be prepared to deal with disappointment with an open mind, McKenzie said.

"The most hardworking guy doesn't always get the job," he explained. "You have to understand that and be okay with that."

McKenzie is certainly working hard now.

He spends up to 12 hours a day working on the show, mostly on the set.

"It's a lot less glamorous and different than one would imagine. It's normal lives and normal people, of which I am one," McKenzie said. "You have different requirements, basically. Instead of having to do research for a presentation, you have to do a couple of interviews to promote a show."

McKenzie said he believes part of the reason the media has picked up so heavily on the show is that it is a break from cop, lawyer and reality TV.

The casts' looks don't hurt either.

Asked if Peter Gallagher is as hot on TV as he is in real life, McKenzie said he was.

"It's a pretty attractive cast, I have to say, both guys and girls," McKenzie said. "We're doing all right for ourselves."

The cast works five or six episodes ahead of what the show is airing, depending on when reruns air and other factors.

"It's mildly amusing to have people who are very avid fans want to know if Marissa is going to break up with Ryan," McKenzie said. "It's interesting to watch because as an actor you know what's coming up but the rest of the world doesn't."

He finds the working world on the set to be "a wonderfully cooperative environment."

"Josh [the creator] is 27 years old, and me being 25 I'm able to talk to him almost as a peer," McKenzie said. "I sit down with him after each draft, and anything I think is a trouble spot we work through it. I can't stress enough how important it is, and rare. Other shows end up being an environment where they tell you what's going to happen."

McKenzie said the cast members are able to have a fair amount of influence on their characters, especially Adam Brody, who plays the sarcastic Seth.

"Adam's able to put his own comedy and humor into the show, and I'm able to adjust the dialogue to something I think is semi-accurate," McKenzie said. "[Josh] also bases some of the show off of our lives."

He cited an example in which a conversation between he and Adam about girls turned up in the script.

"You have to watch yourself when you're around Josh," McKenzie said.

McKenzie's time at the University was full of normal activities. He streaked the Lawn. His favorite restaurant was Michael's Bistro, although he enjoyed going downtown to C&O when his parents were in town to foot the bill. He lived in Emmet his first year.

While serious about his studies, he spent most of his free time doing theater. "Mainly what happened was I would go to class during the day and have rehearsal at night," McKenzie said.

He worked in several productions, including a role as the duke in "Measure for Measure" during his fourth year, for any current fourth years who might have seen him during their first year.

He also enjoyed working with several of the professors in the drama department, including Betsy Tucker, Richard Warner and Gwen West, who he stressed were in no particular order.

"I look back and think U.Va. really is a wonderful place to go to school," McKenzie said. "Not to be too much of a dork, but it's a great learning environment. The professors are genuinely there to teach, and at other schools they're there to research."

Anyone looking for evidence of McKenzie in the yearbook isn't going to find him, however, because McKenzie is not his real last name.

He changed to his middle name -- his full name is Benjamin McKenzie Schenkkan -- because there was already an actor with a similar name in the union.

"He's in 'Angels in America' [and also last week's episode of 'Law and Order'] -- Ben Shenkman," McKenzie said. "It was causing confusion already, so I thought it would be simpler and easier if I went with my middle name."

McKenzie enjoyed following University sports while an undergraduate, especially football and basketball, "with the lovely court that Jefferson signed." He tries to follow the teams now, but they don't get onto television too often in Los Angeles, where he is now working.

Despite his high school background as a football player, McKenzie did not play any sports while at the University, although he did have a brief encounter with rugby.

"I played rugby for a while with a hallmate, Chris Turner -- a great guy. Rugby players are much scarier than football players, they do it without pads -- they're really nice guys but they're crazy," McKenzie said. "I'm not big enough to do it and not break. It was fun though. I had no idea what I was doing, running around trying to throw the ball to someone."

McKenzie said he sees the future as pretty wide open.

"In the near future I'd love to break into film and try my hand at different roles and different genres," he said.

Asked if he wants to be an actor for the rest of his life, he said there's no way to be sure.

"I love what I do," McKenzie said. "But it's hard to say at age 25. Four years ago I didn't know I wanted to be an actor. I'm interested in government and politics, and other aspects of the business, like directing, producing, writing."

And of course he'd like to come back to visit his alma mater.

"Wahoowa. Hopefully I'll make it back some day, be able to hang out again," McKenzie said. "It was a great time, a great school. I'll never be able to do it again."

This Show Rocks! MTV? Radio? Bah! These days some bands are fighting the cash crunch and finding fans via shows like The O.C.; Brian Hiatt
Entertainment Weekly 02-13-2004
Byline: Brian Hiatt

Like most fledgling rockers, Rooney are not in the habit of arriving at their seedy club gigs in gleaming, black stretch limos. But on this brisk winter evening in Orange County, the quintet emerges from just such a vehicle, strutting single file through a shadowy nightclub parking lot. As the musicians head backstage, one wide-eyed fan--a jockish blond kid named Luke--voices an urgent, if clueless, query: "which one's Rooney?"

At that moment, millions of television viewers are probably asking the same question. Rooney, you see, are working it O.C.-style--as in Fox's teen-soap smash; the band canceled a real-life tour date to peddle their power pop on the Jan. 7 episode. "I can't say it was the most important gig of our lives," says frontman Robert Carmine. "But it was a good thing for the band." The next week, sales of Rooney's self-titled debut CD tripled, moving it onto the billboard album chart.

And the relatively unknown group's ready-for-prime-time moment is no the-Flaming-Lips-play-the-Peach-Pit anomaly: from car ads to, of all places, JAG, in 2004 you're far more likely to encounter cool new music on network television than on mainstream radio. Says O.C. creator Josh Schwartz, who's also showcased such indie acts as Death Cab for Cutie and Bright Eyes (and is planning a series of O.C. soundtrack albums): "The traditional avenues for hearing about new music--radio and MTV--have gotten less open. So record companies are recognizing that [mainstream TV] is a great opportunity for getting it out there."

Plus, unlike radio programmers, TV creators and ad agencies specifically want songs completely unfamiliar to most listeners. Not only is obscure music vastly cheaper than, say, Bob Seger & the Silver Bullet Band's "Like a Rock" but "you get to attach a piece of music to your brand that has no baggage," says Kathy Delaney, managing partner for Deutsch, the ad agency behind the music-centric Mitsubishi ads that currently have a suburban dad boogying to Brooklyn post-punkers Radio 4's "Dance to the Underground." Adds Beth Urdang, founder of music-supervision firm Agoraphone, "We get calls all the time [from agencies] saying 'Find us a new cool song.'"

Show creators have similar appetites. The producers of HBO's Six Feet Under--who've used songs from the Soundtrack of Our Lives, the Electric Soft Parade, and Boards of Canada--actively pursue below-the-radar music. "They feel a song that people know will take you out of the scene," says one of the show's music supervisors, Gary Calamar. "[If you're watching a scene and] all of a sudden a well-known song comes on, you think, 'That's Pat Benatar.'"

Remarkably, your more conservative network execs (many of whom probably still blast "Love Is a Battlefield" in their SUVs) are open to the quirky musical tastes of their shows' creators. Apparently impressed by the success of TV ads boasting left-of-center tunes--a trend that likely began with the late-'90s Volkswagen ads soundtracked by Nick Drake and the Orb--many nets are allowing their show runners to make equally exotic choices. "Nobody lets you do this out of the goodness of their heart," says Gilmore Girls creator Amy Sherman-Palladino. Like The O.C.'s Schwartz, she enjoys musical autonomy, showcasing personal faves from the Shins (who may make a Rooney-style appearance on an upcoming episode), Pernice Brothers, and Ash. She adds, "The feeling [among execs] must be that this music reaches the broader audience that buys the tampons."

Bands, meanwhile, are less afraid to sell tampons--or anything else--as the sellout stigma once attached to licensing songs fades away. "It's become more socially acceptable in this world," says Ben Gibbard, singer for O.C. favorite Death Cab for Cutie. In fact, such indie standard-bearers as Modest Mouse and the Walkmen have recently sold songs to ads, while onetime holdouts like Yo La Tengo and They Might Be Giants (the duo behind Malcolm in the Middle's theme) license tracks to TV shows. "It's stopped being an element of indie cool to be poor," notes TMBG manager Jamie Kitman.

"Licensing," says James Mercer, the helium-voiced leader of the Shins, "is one of the major ways that a small band can survive." Or thrive. Though commercial radio won't touch their delicate, meandering guitar pop, the Shins' songs (mostly the upbeat "Know Your Onion!" and the ballad "New Slang") have graced not only Gilmore Girls but Scrubs, The Sopranos, and a McDonald's ad--which paid for Mercer's Portland house and home studio.

After the ad (which used 30 seconds of the "New Slang" intro), the Shins did receive some rude e-mails, along with shouted requests for "the french fry song." But righteous anger evaporated in the face of the band's casual candor about their motives. "I don't want to be associated with McDonald's,'' Mercer explains. "I just want their money. You're being exploited, but you're exploiting them as well. That's what capitalism is, really--that's why you both say thank you when you leave the counter."

Even the squarest of television shows have begun spotlighting new music. The emo-ish piano-rock group Something Corporate will see their single and video promoted on an upcoming episode of what is perhaps the least rockin' show on television: CBS' military-law drama JAG. "My mom was all excited," says singer Andrew McMahon. "I've never seen the show.... There's a whole lot of bands, and not a lot of places to get played."

As for the die-hard fans who would rather keep their favorite bands to themselves, there may be only one solution. Says the Shins' Mercer: "If people have a problem with licensing, they need to start buying records again."

Dolly (An Australian mag).
Boy We Want
Adam Brody

Our fave show The O.C. may have been cancelled, but that doesn't mean we have to stop loving the gorgeous Adam Brody.

the boy next door
Mischa Barton's character, Marissa, on our new obsession, The O.C., is one of the luckiest girls on TV. She not only gets bad boy Ryan to flirt with but she lives next door to the geeky, but seriously spunky, Seth, played by Adam Brody.

Sure, he can't flirt and he gets picked on and ignored by most of the kids at school, but he's cute and sweet and we're happy to hear that he's pretty close to that in real life (just without the geeky quotient). "Adam's cooler than his character. Seth is a bit dorkier. Girls love him. They find him very cool and flirtatious," says Mischa.

If you're a TV junkie like we are then you'll probably have spotted Adam in guest roles on Smallville, and as Lane's boyfriend on Gilmore Girls. He also had a small role in The Ring with Naomi Watts, about which he says: "To do a scene opposite Naomi Watts was great! Love it!" But as with most actors out there, getting his big break took some time.

Adam grew up in San Diego, just outside of LA, and was obsessed with skating and surfing. His love for movies started when he got a part-time job at a Blockbuster video store. "I became fascinated with movies. I was giving away movies all day and it looked really interesting. I wasn't in school, so on a whim I told my best friend we should move to LA. I gave it a year to make something of myself. In that time, I worked at French Connection, a pizza place and as a valet at a Beverly Hills Hotel. I lived with my friend in this L-shaped room and we had bunk beds. It was so small that we had to take turns eating because one person had to be lying down on the bed. It wasn't much bigger than a cell at juvenile hall."

But now that he's on a hot TV show, Adam doesn't have to worry about struggling to pay the rent - now it's crazed fans he has to watch out for. "I was on set and this psycho couple walked in and were being ridiculous. I thought I was on Punk'd. The came in and started yelling at me. They ended up just being these guys who'd snuck on the lot and were like, 'Were you in American Pie?' and, 'Give my girlfriend work!' It was crazy." Ah, the price of fame.

cosy co-stars
On screen, Adam is crazy for Summer (Rachael Bilson), but has most of his scenes with Marissa (Mischa Barton). Two gorgeous girls - must be tough for the poor guy!

mr popular
Adam's geeky persona is all a fraud. Well, according to his co-stars, that is. They say the real story is that he's the one who gets all the girls.

separated at birth?
John Mayer and Adam Brody *personally, I don't think so!*

'The O.C.': Must-see teen TV; 'The O.C.': Must-see teen TV
The Washington Times
01-30-2004

"The O.C." has it, that intangible, irrefutable something that makes rival television producers go weak at the knees.

The Fox network show, such as "Dawson's Creek" and "Beverly Hills, 90210" before it, has captured the wave of teen delirium. Beautiful people. Music of the moment. Fashion statements which quickly ripple through high schools nationwide.

It's appointment television for those too young to vote but too old to care about the Olsen twins.

"The O.C." follows a group of high school students making their mark in Orange County, Calif. Young, safely rebellious Ryan (Benjamin McKenzie) is the show's dramatic center, trying to rebuild his life under the firm hand of his new guardians (Peter Gallagher and Kelly Rowan).

The formula for this kind of show, which airs at 9 Wednesday nights, is hardly new. Overage actors play teens still angsting about homework and proms and spontaneously spout dialogue wittier than your average student could muster if he or she had all term to think about it.

The inevitable soundtrack album, to feature Phantom Planet as well as songs by Spoon, Jem, the 88 and Jet, is slated for a March 30 release. The CD, which should further cement the show's hold on teens, will come with a code so customers can go online and unlock more content, including where each song was used on the show.

Tim Jackson, professor in the digital media broadcast division at the New England Institute of Art, says record companies are turning to television more than ever to sell their product in a marketplace reeling from soft sales and free downloads.

"Many more hits are broken on television than radio these days," he says. "That's been a sensibility for marketers for quite a while. They're bypassing radio."

Mr. Jackson says he gets updates on just how hip "The O.C." is from his daughter and niece.

"In addition to brilliant casting, it's created a dialogue for parents and kids. They actually do sit down and talk about it," Mr. Jackson says.

Teens today talk more about religious diversity without having it impact the way they think about one another, he says, and they broach issues regarding homosexuality far more openly than past generations.

Reality television may get all the ink these days, but Mr. Jackson says "The O.C." plots are governed by real issues.

"Reality is closing in on these shows, and the writers are getting good about the micro-details of teenage life," he says.

Entertainment Weekly collectively named "The O.C.'s" cast as the "Breakout Star, 2003" and reports the show has granted the vintage sportswear company Original Penguin a new life.

The teen fashion destination www.fashionclub.com runs an "O.C. Style Report" on its Web site to keep tabs on its wardrobe drifts.

Some of the show's fashion statements are shrewdly aimed at the cost-conscious set.

A recent episode featured a Wet Seal jacket - a $20 value - with an inexpensive pair of flip-flops.

Alexandra Welker, the show's costume designer, says the danger of designing for a show like "The O.C." is that as soon as an episode hits the air its fashions could be passe. Ms. Welker shoots for outfits that are both of the moment and timeless.

"I'd hate for it to go into syndication and have people say, 'That's so 2003,' " says Ms. Welker, a veteran feature film designer.

Fashion may have its fluffy side, but what actors wear gives "a myriad of clues as to who they are, their sense of self," she says. "My lead male, Ryan, is this outsider ... I've had this strong directive to maintain that outsider status" through his ensembles, she says. "The clothes are very lean."

Ms. Welker's charges already have established a few looks that are infiltrating the consumer mind-set. She sees more young people today donning small T-shirts, and her characters' thing for Ugg boots is already being aped in hip urban regions.

Not everyone is delighted with "The O.C.'s" rise to pop culture touchstone status.

Melissa Caldwell, director of research and publications for the Parents Television Council, says the program often exposes its young audience to morally questionable behavior.

The first episode alone, Miss Caldwell says, featured an unsupervised party in which drugs and alcohol were greedily consumed and one character stumbled onto a menage a trois. To its credit, she says, the show implied the hedonistic lifestyle portends danger.

Subsequent episodes haven't been so nuanced.

That's the balance the show often strikes, trotting out salacious behavior and then slapping it on its wrists. That tug of war resonates with young audiences, she says.

"Most teens are not raised in that permissive environment," she says. "Their instincts are pulling them in another direction."

It's a safe bet "The O.C." will have the lion's share of young viewers at least through season's end. But teen tastes are fickle.

Just ask any bored record store clerk stocking unsold copies of Britney Spears' latest album.

Jon Hein, creator of the "Jump the Shark" Web site (www.jumptheshark.com), says Fox's savvy marketing plan gave the show a great jump-start. "The O.C." first aired in late summer, before the other new network shows could crowd it out. It's too early for the show to "jump the shark" (Mr. Hein's coinage, which means when a show begins to founder), but he says that with today's diversification of programming schedules, the show's demographic dominance might not last long.

"A new show can come at any time, and that changes the game a little bit," he says. "To keep it fresh is tough to do, but [for now] this is the teen drama that people are watching."

Twist magazine (february 2004), theres is a tiny article about seth/adam.

the little bit about him is in an article titled "most romantic guys" and then lists guys that they believe are the most romantic, and then a little bit about them. heres about adam/seth.

"Even though Adam Brody says he's a bit smoother than his on-screen persona in The OC ("I like to think that I'm a little steadier on my feet with girls," he reveals), we can't help but hope that he takes a little bit of Seth Cohen's sweet, romantic nature with him wherever he goes. After all, Seth did name a sailboat after his long-time crush, Summer -- how adorable is that?"

POP MUSIC
POP EYE
Subversive sounds of 'The O.C.'

Sunday January 25, 2004
By Steve Hochman, Special to The Times
Home Edition
Section Sunday Calendar, Part E, Page 48

-------------------------------------------


Will there be trouble for Seth and Anna?

Just how crazy is Oliver?

And what was that song during the makeout scene?

Fans of the Fox TV series "The O.C." are asking that last kind of question as much as the first two. At least that's the thinking at Warner Bros. Records, which has formed an alliance with Fox -- not just to release the standard tie-in soundtrack album, but an ongoing series of CDs to promote the show as a place to discover cool, unknown music.

Given the show's status as the successor to "Beverly Hills, 90210" and "Dawson's Creek" in the line of teen soap operas, it would be natural to expect it to feature current hot bands and sounds -- Good Charlotte, Avril Lavigne, and such. Instead, it taps the tastes of the show's creative team, and even cast members, to go off the beaten track and highlight relative unknowns such as Spoon, Belle & Sebastian and Alexi Mur- doch.

"People I know in the business with kids, 15-year-olds, 16-year-olds, have been saying, 'My daughter called me about this band,' " says Tom Whalley, chairman and CEO of Warner Bros. Records. "I'd ask, 'Where'd your daughter find out about that?' And they'd tell me, 'On "The O.C." ' "

Series executive producer McG says that's exactly the idea he and show creator Josh Schwartz had from the start.

"I always thought the show was elegantly subversive and that's the function of music as a character," says McG, who grew up in Newport Beach with the members of Sugar Ray and was a music producer and video director before becoming a top movie director with the two "Charlie's Angels" films on his resume. "When people watch the show and think it's a teen soap opera on Fox, and then they hear a track by Belle & Sebastian or Joseph Arthur, they might think, 'Hey, there's more going on here.' "

To Whalley, it's an opportunity to transcend the normal thinking of music tie-ins and build "The O.C." as a brand name for a sense of musical taste.

"When I started to look into the show's music and get a sense of what the culture of it was, how the music fit in," Whalley says, "we came up with the idea [not to] look at it as a soundtrack, but as a sampler of the kind of music that's on the show that kids can use as a tool to discover new artists, cutting-edge artists."

The plan at this point is to release a volume every few months, a la the "Now That's What I Call Music" compilation series. The first is due in late March and features the show's theme, "California" by Phantom Planet, along with songs by Arthur, South, Jem, Spoon, Jet, Doves, Turin Brakes, the Dandy Warhols and a pairing of Finley Quaye and William Orbit -- only a few of which are on major labels -- plus unsigned L.A. acts Murdoch and the 88.

McG says Murdoch's lilting acoustic song, "Orange Sky," for example, was brought in by Schwarz after he saw the singer-songwriter open a show in L.A. last spring and bought his self-released EP on the spot. The song was used in a key scene of a recent episode, which Murdoch manager Lynn Grossman says led to a huge surge of hits on the artist's website and a boost in EP sales.

One thing conspicuously missing from the CD roster is any Warner Bros. act at all.

"That's a pretty gutsy move on their behalf," says McG.

Straight to the recording studio

Jai RODRIGUEZ, the "culture vulture" of Bravo's "Queer Eye for the Straight Guy" makeover show, is aiming high when asked who he'd like to duet with him.

"Beyonce and Jennifer Lopez," he says.

It's not mere fantasy. Rodriguez is using the recognition he's gotten from the show as a platform to make an album -- and to harbor serious thoughts of hooking high-profile guests, though he hasn't asked either of those.

The album is no mere lark. He's a seasoned performer who appeared in the role of Angel in "Rent" for a year on Broadway and in musical theater and club performances before being cast in "Queer Eye."

"What's cool is I have this momentum because of 'Queer Eye,' " he says. "But being known for doing makeovers is not something I ever planned. Honestly, I'd rather have been on 'American Idol' than 'Queer Eye.' "

During breaks from the show's grueling production schedule, Rodriguez is working on original material with the production team known as Jack, and plans to shop for a label deal in the next few months, with June as a target release date. He describes the material as being influenced by a range of pop musicians, from Stevie Wonder to Justin Timberlake.

As for Lopez and Beyonce, he's waiting to get the album nearly done before deciding on whether guests would be appropriate.

"I'm really anxious to work with Jennifer," he says. "I've met her several times and felt a great energy. We're both from New York and Puerto Rican and have the same vibe. And Beyonce -- there's that whole R&B part of me."

Small faces

* The well of "lost" Woody Guthrie songs is far from dry. Eliza Gilkyson has teamed with Patty Griffin, Mary Chapin Carpenter and Iris DeMent to sing "Peace Call," a song Gilkyson found in an out-of-print Guthrie songbook while on the Woody Guthrie Tribute Tour last summer. Written in the '50s (but with a 1963 copyright), the song is a peace anthem that had never been recorded. This version, which will be on her new album, "Land of Milk and Honey," due March 23 from Red House Records, was made with the blessing of Guthrie's daughter, Nora, who notes that the singer "got inside something special on this song."

* Los Lobos has been joined by guests Elvis Costello, Cafe Tacuba, Tom Waits, Ruben Blades, Mitchell Froom, Bobby Womack, Mavis Staples, Richard Thompson, Garth Hudson and Quetzal's Martha Gonzales on its upcoming album, "The Ride." The new studio collection is due May 4 from Hollywood Records.

* Robert Smith of the Cure, Will Oldham (Bonnie "Prince" Billy) and David Sylvian provide vocals on the new album by Tweaker, the alias for former Nine Inch Nails programmer-drummer Chris Vrenna. The album, due April 20 from Waxploitation Records and iMusic, marks a strong step forward for Tweaker, with song structures taking precedence over the electronics of his past work.

For Immediate Release
Wednesday, September 10, 2003


FOX COMPLETES FULL SEASON ORDER FOR NEW ONE-HOUR DRAMA 'THE O.C.'


FOX has ordered an additional nine episodes of the new one-hour drama THE O.C., bringing the show to a full compliment of 22 episodes, it was announced today by Gail Berman, President, Entertainment for the Fox Broadcasting Company.

"The O.C. is, without a doubt, the big story of the summer. The success of this show has proved to be a tremendous first step towards FOX's stated goal of a year-round programming strategy," said Berman. "We're changing the rules, and The O.C.'s success has clearly proved that you can shift the paradigm and launch original series outside of the traditional September window."


Slate Online
Rumble Fish by the Sea
Fox's O.C. brings back the tender delinquent.
By Virginia Heffernan
Posted Wednesday, August 13, 2003, at 4:07 PM PT

How did Orange County join Ukraine, Yukon, Bronx, and Congo as territory that merits the definite article? "Welcome to the O.C., bitch," a bully announces on Fox's new teen drama. "This is how it's done in Orange County."

How it's done in The O.C. (Tuesdays, 9 p.m. ET), which premiered last week, is, in short: A sexy, sullen kid, under bad influences, steals a Camaro and lands in the hands of an avuncular public defender. Counselor, taking pity on the stray, brings him home to a sumptuous wife-sponsored mansion in Newport Beach. There the rich swoon over the gentle hood. He's befriended by girls in low jeans, the lawyer's stammery son, and a Paltrow-like neighbor girl whose financial-adviser father is in trouble with the Securities and Exchange Commission. Ryan, the hood, and Marissa have a lot in common because Ryan's dad's committed armed robbery, and, if you think about it, didn't Marissa's do the same thing? If you can forget all the phony crap that divides rich people from poor peopleyeah, he did.

The O.C. speaks some hard truths about rich and poor, truths rarely found outside the work of S.E. Hinton, with its cruel line between "greasers" and "socs." Now we have another chance to sample from that smorgasbord of teen sentimentality: a sulky rebel; the white-boy crime of joy riding; a loveless home; and some high SAT scores, which indicate potential. Did I mention Ryan's sexiness, and the fact that he's a decent street fighter?


You girls of the '90s may never know how we used to weep over this stuff in The Outsiders. Still, I would have called it passé, here and now, and declared that the lust of female do-gooders had moved on past poetic joy riders to bigger, badder game, were it not for the fact of 8 Mile. In that high-gross affairwhich is openly alluded to in The O.C.a boy, Rabbit, in tribute to Ponyboy of The Outsiders, sulked around his loveless house while composing verse to set him free. And the girls came. There's life in the old fantasy yet. Perhaps, though shows like Oz and The Wire have turned white juvenile-delinquent dropouts into figures about as menacing as pickpockets in Dickens, there are reasons for reviving criminal archetypes from the past. And bygone savior-types, too, like Sandy Cohen (Peter Gallagher), who, as the cool down dad, could almost be Kotter or Coach Reeves from The White Shadow.

To get these archetypes into a new show, however, you can't go back to Kotter's Brooklyn or Reeves' L.A. You have to set your show in 2003, but in a place that's been well-preserved for 30 years, somewhere where cars still get hot-wired by amateurs and rich people still drawl like Thurston Howell IIIreal estate, in short, uncontaminated by complex race politics or steering wheels locked with the Club. This place, I'm convinced after two entertaining episodes, could be the O.C.

What's best about The O.C. is Peter Gallagher. Gallagher has always been a subtle actor, jinxed by his resemblance to glitzy dope John Davidson. (Maybe Gallagher should just see a surgeon and, for art's sake, have his dimples pounded out and his chin reduced. He'd look much more trusty.) Here in Orange County he struggles to conceal his native flash with a stoop and a heavy haircut. He also hazards a Bronx accent. As usual, Gallagher works carefullyplaying, here, a tough Jew, who does brilliantly when given a casual exchange like this (with his wife, Kirsten [Kelly Rowan], who doesn't want to take Ryan in):

"When did you become so cynical?" he asks

"When did you become so self-righteous?"

"I've always been self-righteous."

This last line"I've always been self-righteous"suits Gallagher so perfectly because it doesn't deny his self-assurance, but also works when set against the fact that he's a conscientious actor who has failed to be a movie star either because he's too self-righteous to court Hollywood or because Hollywood finds him too self-righteous. In any case, the line delights him.

Less-good dialogue passes between Ryan (Benjamin McKenzie) and Marissa (Mischa Barton). Their meeting is meant to be portentous and dangerousRyan's a man with no name, and Marissa's the local prom queenbut even cigarette smoke and a shared light can't turn a teen surfside scene to noir. "Who are you?" Marissa asks. Can you guess? He's "Whoever you want me to be"exactly.

Barton's gait distinctly evokes Gwyneth Paltrow's, but she also looks like a young Paulina Porizkova, and suspiciously like a runway alumna, though she started as a child stage actress. She's good. Her efforts to maintain her top-shelf high-school popularity even as she falls in with Ryangreeting the old crowd, taking their cell calls, telling them all how much she loves themseem right on. Her conversion from best girl to gun moll isn't happening overnight, and she clearly doesn't want to forfeit the prerogatives of insincerity too soon. Barton expresses this bet-hedging elegantly, without hamming it up.

Her father, the white-collar armed robber (Jimmy Cooper, played by Tate Donovan); her mother, a vain tramp (Melinda Clarke); and Seth (Adam Brody), Sandy's uncool son, all show promise as characters but have started the series too broadly. And then there's Ryan. Played competently by Benjamin McKenzie, he didn't just get a stylist on set; he got a stylizer. In a wifebeateror, no joke, a gray hooded sweatshirt and a leather jacketRyan hews close to his cliché, the better to set off the equally predictable magic moments of breakfast-making or Marissa-tending or Seth-consoling that make him the tough-tender hero of this throwback show.

Maybe the sentimental, retro effect of The O.C. shouldn't have surprised me. McG, the executive producer of the series, made his name directing Charlie's Angels, which revised another set of 30-year-old cartoons. Bob DeLaurentis, another executive producer, once produced episodes ofyesThe White Shadow. But the creator of the show is not an old TV mariner who still misses Barney Miller. He's Josh Schwartz, and, at 26, he's the youngest person ever to create an hourlong drama for network TV. S.E. Hinton published The Outsiders in 1967, nine years before Schwartz was born, when she herself was 17. So maybe some teen stories never get oldor at least retain their freshness in the one and only O.C.



Village Voice
by Joy Press
Rich Kid, Poor Kid
The O.C. Fills a Vacancy at the Hotel California; Sucking Up the '70s
August 20 - 26, 2003

To O.C. or not to O.C.? That is the television critic's most pressing late-summer question. If you saw any of the commercials for Fox's glossy, aggressively advertised new drama about rich kids run amok in Southern California, you probably made up your mind before the first episode even aired. You either thought, "That looks like an offensive piece of teen-exploitation crap," or "Finally, something to fill the gaping hole in my life left by the demise of Beverly Hills 90210." Sure, some of 90210's fans turned to Dawson's Creek or Gilmore Girls, but those wholesome series lacked a certain glitz and tawdriness. In a daring move, Fox has placed The O.C. in the time slot opposite Gilmore Girls' summer reruns, effectively staging a showdown between two sensibilities: the ultra-girly, nonstop cultural-chatter of the G.G. versus the long, taciturn silences of The O.C.

Ryan Atwood, The O.C.'s central figure, may be the quietest leading man on TV (he's played by Benjamin McKenzie). From the very first scene he's portrayed as a sweet kid kicked around by circumstance: picked up by the cops after his thug brother embroils him in a carjacking, brutalized by his alcoholic mom's tattooed boyfriend, tossed out of the house. Despite Ryan's stony silence, he somehow inspires sympathy in his pro bono lawyer, Sandy Cohen (Peter Gallagher)himself a poor kid made good. Sandy is struck by Ryan's high school test scores (In the 98th percentile! Perfect candidate for upward mobility!) and decides to take him home to his Orange County (O.C.) mansion, where he lives with his wealthy wife and teenage son. Throughout the first few episodes, Ryan expresses no resentment or opinionsa teenage Chauncey Gardner from Being There, quietly allowing people to project their fantasies onto him. All we know of this kid is what we can gather from the flickering, vulnerable expressions that pass over his face.

The first clue that Ryan's not entirely empty-headedand that there's something interesting to be gleaned from The O.C.is his response to Sandy's clichéd speech about pursuing his dreams. "Where I come from, having a dream doesn't make you smart," Ryan mutters. "Knowing that it won't come truethat does." It turns out that The O.C. isn't just an extended music video/soap opera that hinges on the sex lives of pretty, privileged kids in designer clothesthough it does that with extreme gusto, out-cheesing Aaron Spelling himself. It's also a series about something else rarely discussed on slick TV dramas: the wounds of class. The whole premise of The O.C. is: What happens when deprivation meets privilege? Ryan's instant friendship with Sandy's nerdy, chatty son Seth (Adam Brody, an escapee from Gilmore Girls) suggests a fantasy resolution of the rich-poor dividenow almost a caste system in America, where there's less social mobility than in the old Europe. "We're from different worlds," Ryan warns Marisa, the beautiful girl next door who is fascinated by his strong, silent hunkiness.

The different-world-colliding plot goes back to the classics, of course, while on TV there've been sentimental predecessors such as Different Strokes, in which rich white folks took in poor black orphans. Ryan is a lot more photogenic than Gary Coleman, though, and all the girls think he's totally hot. Some of them also give him extra Brownie points for being working-class, equating poverty with moral superiority. Seth does too. Glib and ironic without meaning to be, emitting a constant stream of wisecracks and cultural references, Seth is attracted by Ryan's apparent authenticity and edginess. While Ryan prepares to run away from the Cohen's mansion to evade the clutches of child welfare, Seth, surrounded by a loving family and a fantasy home, babbles on about how much he loves On the Road: "I've always wanted to do that Kerouac thing."

Perhaps recognizing that shows like Buffy and Dawson's Creek pulled in plenty of adult viewers, The O.C. cunningly widens its focus to include quality time with the parents. Sandy and his blond, property-developer wife Kirsten (Kelly Rowan) are an intriguing couple: He gets to be a do-gooding pro bono lawyer while also reaping the benefits of her avid capitalist instincts. Their banter sometimes suggests an ongoing moral tug of war, as he tries to convince her to let Ryan live with them, and she sulks, "When did you become so self-righteous?" He responds sweetly, "I've always been self-righteous. You used to find it charming." That was back in the days when she was a patchouli-scented hippie chick who briefly jettisoned her moneyed upbringing and then returned to it, bringing Sandy with her.

Like Sandy, The O.C. likes to make little digs at the moral vacuity of wealth while also reveling in its luxury. "Welcome to the dark side," Seth quips as he leads Ryan into his first ritzy event, a teen fashion show to benefit a women's shelter. The camera obligingly pans across the smug, privileged faces of Orange County's social register. Moms have hissy fits because their catwalking teenage daughters are garbed in Calvin Klein instead of Vera Wang.

A weird hodgepodge of references and registers, The O.C. comes bearing no clear message inside its pop-soundtracked walls. It skirts the issue of class while hinting halfheartedly at ideas like: Money can't buy you happiness, affluence breeds spiritual complacency, we're all the same under the social skin. Its very evasiveness and irresolution makes The O.C. oddly compelling. But if Ryan ever really spoke, his rage might burn down the world.



The O.C.
News 8-6-03:
The critics are raving about The O.C. The Miami Herald calls it "totally absorbing television." The Kansas City Star says it's "sexy and soapy on the outside, soft and tender on the inside. [It] has something rarely seen on a "90210" offspring -- namely, people we actually care about." The Calgary Sun calls it "possibly addictive" and "a great guilty pleasure." The New York Post says "If this one doesn't last, then I give up. It's as good as TV soap gets."

What's more, the Chicago Sun-Times calls Benjamin McKenzie (Ryan Atwood) a "revelation" and hails his "star quality." According to the Newark Star ledger, "McKenzie has the kind of charisma and screen presence to move up to the heavyweight ranks in short order." But McKenzie downplays that praise. "We're not doing Checkov or Ibsen, this is a drama on Fox," McKenzie told the Associated Press. While he's interested in "the conflict between (his character's) past life and his future life," he really took the job because "...I believed it would pay my rent, which I hadn't been able to do."

McKenzie isn't the only one singled out for praise. The San Francisco Chronicle admires "how well the Cohens' son is drawnHere's a teen character who's not easily pigeonholed, which speaks well of the script and [Adam] Brody's charm as an actor."


Looking to get a jump on everyone else for the fall -- plus hook viewers hungry for scripted programming -- Fox on Tuesday premieres an ambitiously modern prime-time drama/soap called "The O.C." that delves into the rich and dysfunctional lives of families in the gated-community world of Orange County.
The series will air for seven weeks, then go off the air as Fox shows major league baseball playoffs and the World Series. It returns Oct. 30. This is a big scheduling gamble because viewers won't come back unless the first seven episodes are stellar.
The pilot is superb. The knee-jerk reaction to "The O.C" would be to assume that years after the fact, Fox is just looking for a little "Beverly Hills 90210" action to bolster ratings. But that ignores the pretty decent pedigree of the people behind "The O.C.," not to mention that the series is compelling on more than a few levels, able to hook both young viewers and their parents.
"The O.C." boasts film director Doug Liman ("Go," "Swingers," "The Bourne Identity") at the helm and as executive producer. He's joined there by another director, McG ("Charlies Angels"), on whose life experiences this series is very loosely based. The real force behind "The O.C.," however, is Josh Schwartz, a very talented writer who sold his first script while still a junior in college for nearly $1 million.
"The O.C." is his big break, and, at 26, Schwartz is allegedly the youngest person ever to create his own prime-time drama.
The series reflects the youth and intelligence of its writer and succeeds by quickly getting viewers past what would seem an insurmountable obstacle -- caring about what happens to rich white kids in Orange County. To make the series work on multiple levels, it revolves around Peter Gallagher, who stars as Sandy Cohen, a pro-bono lawyer whose do-good nature and laid-back approach to life -- he surfs regularly -- is slightly at odds with his highly successful and motivated wife, Kirsten Cohen (Kelly Rowan), who's wealthy, beautiful, connected and described as "the linchpin of O.C. society."
She's displeased that her husband has reeled in a kid from Chino, which is so far on the other side of the tracks it can't even be seen. Seems that 16- year-old Ryan Atwood (Benjamin McKenzie) was abandoned by his law-breaking, poor white trash family, and now Sandy has brought him to "The O.C." to save what he sees as a promising life.
McKenzie is essentially playing James Dean here, and it doesn't hurt that he's also channeling Russell Crowe and pulling the whole thing off with aplomb.
If he doesn't wind up as the Next Big Thing soon, the system is out of whack.
By arriving in Newport Beach, home of the Cohens, Ryan has thrown everyone off balance. He doesn't fit in with the pampered and petulant children giving raging parties for themselves and playing a vicious game of power and prestige.
Obviously, his arrival is going to spark trouble.
There are enough square-jawed jock types and wafer-thin, label-obsessed babes in this pilot to populate a large metropolitan area. But "The O.C." doesn't degenerate into rich-kids-gone-wild predictability because Schwartz keeps out the cliches and effectively involves the parents in story lines that are more than window dressing for their children's lives.
This is good. It's a different approach and gives off the whiff of promise.
That's not to say that "The O.C." is a youthful "Wire" or anything along those lines. But the producers, directors and writers have, at the very least, created a smart pilot that will serve as the template for future episodes.
Some of the hope that "The O.C." inspires and that offsets any inclination to think that this will be standard, soapy fare is that Gallagher's character is intriguing, McKenzie plays the bad seed with the good heart to near perfection and the series has a number of surprises, like how well the Cohens' son is drawn. Seth Cohen (Adam Brody) is considered weird and maybe a tad geeky by those in the Newport Beach elite. Schwartz described him as the kind of kid who's going to have a terrible time in high school but will be cool in college.
We get that sense early on when we notice that he's got a Paul Weller jones that won't quit (the Jam, the Style Council, posters of Weller gone solo), a self-deprecating wit and quirky loner-isms that leap off the screen. Here's a teen character who's not easily pigeonholed, which speaks well of the script and Brody's charm as an actor.
Clearly, to survive and keep viewers interested, "The O.C." has to create compelling drama for the parents as well as the kids. Judging from the first hour, the parents have issues to spare.
The series can't fall into predictable cliches and needs to keep an eye on that fine line between dissecting the manifestations of spoiled youth and wallowing in it tritely for ratings' sake. Here's hoping it's neither "Beverly Hills 90210" or "Dawson's Creek."
Not that there's anything wrong with that. But something a little grander and less formulaic might be nice.

Benjamin McKenzie's big break.
He left Austin as Ben Schenkkan. Six years later; he's grabbing Hollywood's attention as the star of Fox's 'The O.C.'!-- begin

By Diane Holloway

AMERICAN-STATESMAN TELEVISION WRITER
Monday, August 4, 2003
SANTA MONICA, Calif. -- What a difference a few years make.
In the fall of 1996, Ben Schenkkan was racing for the end zone, an Austin High Maroon happily competing on a winning team. In the fall of 2003, he's racing toward stardom, possibly the newest American heartthrob on Fox's new series "The O.C.," which debuts Tuesday.
The 24-year-old actor, known in Hollywood these days as Benjamin McKenzie, is being described in some circles as a young Russell Crowe. He looks a bit more like James Dean in his publicity shots. But the bad-boy, moodier-than-thou demeanor is nowhere to be found in person. Instead, there's a winning smile, an easy charm and impeccable manners.
"It's a Fox thing, the bad-boy image. They're trying to type me out," McKenzie said during an interview at an elegant beach hotel near his apartment. "There are worse things in life, you know. I'm just really excited about the opportunity."
McKenzie, son of Austin attorney Pete Schenkkan and poet-writer Frances Schenkkan, stars as Ryan Atwood in "The O.C." The new Fox series, a cross between sexy-soap "Melrose Place" and family-drama "Everwood," focuses on the relationship between abandoned teen Ryan and public defender Sandy Cohen (Peter Gallagher), who invites the boy to live with his family in exclusive Newport Beach in Orange County (the 'O.C.' in the show's name.).
Cohen's blue-blood wife (Kelly Rowan), a beautiful girl next door (Mischa Barton) and the Cohens' outcast son (Adam Brody) round out the core group.
Playing a kid from the wrong side of the tracks is going against type for McKenzie, who hails from a relatively affluent Old Austin family.
"It's against type in the sense of my background, but it's with type in the sense that I am a loner who's new to this business and skeptical about a lot of it," McKenzie said.
McKenzie, by the way, is still legally Schenkkan. He changed his name for screen-credit purposes because there's an actor named Ben Schenkman registered with the Screen Actors Guild. He didn't want the two names confused.
"The O.C." producers, McG (the "Charlie's Angels" movies and "Fastlane") and Doug Liman ("The Bourne Identity," "Swingers"), needed four rounds of auditions to cast McKenzie, but now they're convinced he's going to be the hot-shot hunk of the season. And it doesn't hurt that he's also level-headed, smart and talented.
A solid foundation for making it big
The typical big-break story in Hollywood usually begins with years of starving and working minimum wage jobs. McKenzie's rise, however, has been relatively swift and painless, although it may not have felt that way at times.
Born and raised in Austin, McKenzie graduated from Austin High in '97. He wasn't involved in plays; he was deep into football. He followed his father and grandfather to the University of Virginia, where he graduated in 2001 with a degree in economics and foreign relations.
So, how does a young man leap from such intellectual studies into acting?
"I'm somewhat puzzled about that myself," McKenzie said, grinning. "I did theater in college, so I had already started down that path, but I didn't want to major in theater at U. Va. I didn't really know what I wanted to do, so I thought I'd get a good education and do some acting at the same time."
His parents, whom McKenzie describes as "ridiculously supportive," weren't surprised by the sharp turn toward acting.
"We saw as many of his plays in college as we could, and it was clear he was very happy doing it and, in our opinion, showed great promise," Pete Schenkkan said.
Actually, good education and acting are part of McKenzie's pedigree. His uncle, Robert Schenkkan, is an actor and author who won the '92 Pulitzer Prize for writing "The Kentucky Cycle." McKenzie's paternal grandparents both did some acting when they were young. His 22-year-old brother Nate is a Yale graduate working in avant-garde theater in New York. Younger brother Zack, 19, is attending Pomona College, a half-hour away from Los Angeles, and still pondering his future.
Hoping to make a career in theater after college, McKenzie performed in the Williamstown Theater Festival in Massachusetts and then headed for New York -- arriving a month before the Sept. 11 terrorist attacks.
"It was a very strange place to be," McKenzie said. "Broadway and Off-Broadway were hit hard, and there just wasn't a lot going on in theater. But I got a tiny part in an Off-Broadway play and just loved the pure experience of acting on stage."
McKenzie waited tables to help support himself and shared a bunk bed in a cramped apartment in the city. But it didn't take long for him to realize that New York, as much as he loved the acting community there, was not the place to be after Sept. 11. On the advice of his uncle, he decided to give Los Angeles a try.
Not long after arriving on the West Coast, McKenzie landed "a tiny, tiny TV job" on CBS's "The District," playing a teenager who had been molested by a priest. When pilot season rolled around, he landed "The O.C." Now he's a one-man corporation, with a manager, publicist and lawyer on the payroll (he's shopping for a new agent now that his career is taking off).
"I can't complain," McKenzie said. "I had one year of struggle. My parents were always there, but I didn't want to rely on them. Now it's moving pretty fast. I'm not rich, but obviously this is fantastic. All I know to do with money is put it in a shoe box anyway."
McKenzie declines to say how much he's making, but the per-episode amount is probably between $15,000 and $25,000. He recently moved into a new apartment in Santa Monica and bought a sleek new Infiniti G35, which he concedes he spends more on than housing.
A vote of confidence
Fox executives have high hopes for "The O.C." and has bought 13 episodes for the first half of the season. Premiering the show in early August, before the crush of competition, is a sign of support.
The going could get tough in the fall, however, when the series moves to Thursdays, opposite NBC's "Will & Grace" and CBS's "CSI: Crime Scene Investigation."
But if, as expected, "The O.C." catches fire in the summer and continues with more episodes for a full season, McKenzie will be on a fast track to fame. Teen and entertainment magazines are already describing him in hot-and-hunky terms. In fact, the TV show "Entertainment Tonight" used those exact words.
Is McKenzie ready for the fame game, for having teenage girls squeal when he walks by, ganging up on him in the grocery store?
"I don't really know," McKenzie said, sipping coffee to ward off fatigue after working late and having only three hours sleep the night before. "I have a tremendous excitement about all of this. And maybe some trepidation. I definitely need to develop thicker skin. The speed of television means you're not always going to get what you want performance-wise.
"Sometimes those fears (about fame) creep into the back of your head, but then you slap yourself and think, 'Oh, woe is me! People actually like me.' What a silly thing to worry about. This is a huge opportunity, and I'm excited."

'O.C.' Is OK for FOX
zap2it.com
The ballyhooed premiere of "The O.C." didn't win the night for FOX, but the show might be on its way to establishing an audience.
The debut of the series about an outsider (Benjamin McKenzie) who moves into a wealthy beachside community in Orange County, Calif., drew 7.5 million viewers Tuesday night (Aug. 5). It finished second in its timeslot to the finale of NBC's "Last Comic Standing."
FOX professes to be fairly happy with the show's performance, particularly with how it did among younger viewers. "The O.C." scored a 2.9 rating among adults 18-34 -- again second to "Last Comic Standing" -- and a 3.9 among teenagers, making it the top-rated show of the night among the 12-17 set. It averaged 2.9 among adults 18-49.
The premiere was on par with that of "Keen Eddie," which occupied the 9 p.m. Tuesday spot earlier this summer. That series plummeted in its second week, however, something FOX hopes to avoid with "The O.C." The whole point of its summertime launch is to build an audience before the baseball playoffs take over the network's schedule in October.
"The O.C." did build on its lead-in, "American Juniors," in both total audience and the demographic groups FOX tracks. Its 7.5 million viewers will likely place it in the top 30 for the week.
FOX will re-air the premiere at 9 p.m. ET Thursday in hopes of picking up a few more viewers.

Posted: Wed., Aug. 6, 2003, 3:33pm PT
Variety
No big splash for Fox's 'OC'By
RICK KISSELL
HOLLYWOOD -- Ratings were merely OK for "The OC" on Tuesday, as the Fox drama -- the first of the new television season's series to debut -- opened modestly opposite the finale of NBC's "Last Comic Standing."
Busy night also saw FX's "Nip/Tuck" edge up in its third week and Bravo's "Queer Eye for the Straight Guy" stay at roughly its week-ago series-high levels.
"The OC," a well-reviewed soap starring Peter Gallagher and newcomer Benjamin McKenzie, averaged a 2.9/8 in adults 18-49 and 7.46 million viewers overall, according to Nielsen. It placed second in virtually all categories to the strong final hour of "Last Comic Standing" (4.4/13 in 18-49, 9.52m).
This is above what another original drama, "Keen Eddie," averaged in the slot earlier this summer (2.2/6 in A18-49), but "Eddie" actually bowed stronger (3.2/9 in A18-49).
'Juniors' stronger
Fox had to be expecting a bigger splash given the big promotional push and buzz surrounding the show. If there was an encouraging sign it's that "OC," coming out of its "American Juniors" lead-in (2.6/9 in A18-49, 7.02m), built slightly in its second half-hour virtually across the board.
Overall, it scored a 3.0/9 in adults 18-34 and a 3.9/14 in teens. Surprisingly, it was balanced among genders, getting a 10 share in women 18-34 and a 9 share in men 18-34.
Looking to give "OC" more exposure prior to its second episode next week, Fox will replay the first episode twice: in its intended fall timeslot of Thursday at 9 as well as Monday at 8.

TCA FOX afterparty in LA 7/22

Pictures are courtesy of Zap2it.com
Pictures are larger when saved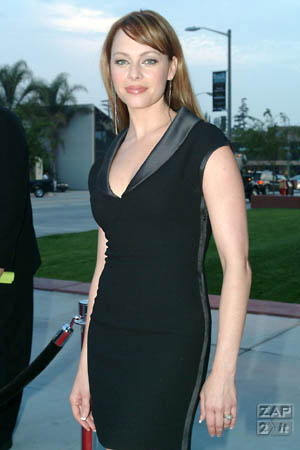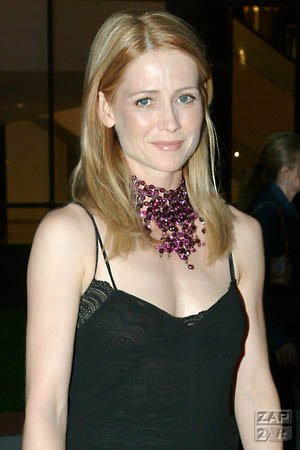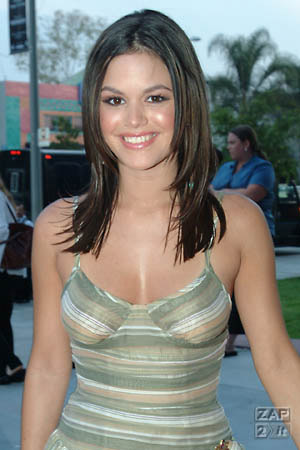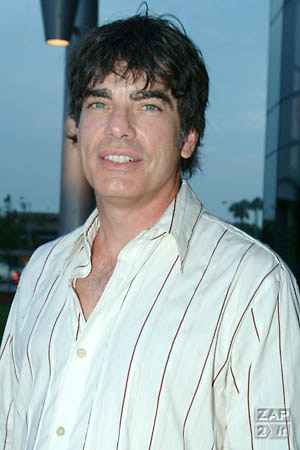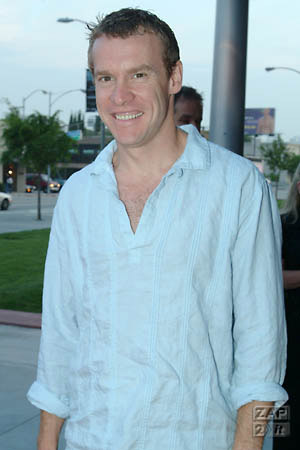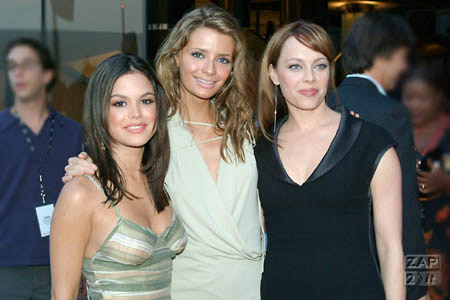 For Immediate Release
Monday, June 16, 2003

'THE O.C.' TO PREMIERE TUESDAY, AUGUST 5, ON FOX

FOX will premiere the new drama series THE O.C. Tuesday, August 5 (9:00-10:00 PM ET/PT), it was announced today by Gail Berman, President, Entertainment for the FOX Broadcasting Company.

"THE O.C. is the type of series that hearkens back to early FOX hits such as 'Melrose Place,'" said Berman. "We are strategically scheduling THE O.C. to debut early and to air behind the popular 'American Juniors,' which delivers a broad audience and very strong female demographics. We believe this will give the show the very best chance to develop a loyal fan base before the other new fall shows premiere."

THE O.C. is a story of fathers and sons, husbands and wives and the coming of age of three young people. Orange County is an idyllic paradise: a wealthy, harbor front community where everything and everyone appears to be perfect. But beneath the surface is a world of shifting loyalties and identities, of kids living secret lives hidden from their parents and of parents living secret lives hidden from their children. RYAN ATWOOD (Benjamin McKenzie), a troubled teen from the wrong side of the tracks, is thrust into this world when SANDY COHEN (Peter Gallagher), an idealistic pro-bono public defender, invites him to stay in his guesthouse. Ryan soon learns that nothing is what it seems, and his arrival serves as the catalyst for forging new alliances, rekindling old flames and striking unlikely friendships.

Sandy's wife, KIRSTEN (Kelly Rowan)--a wealthy and beautiful former homecoming queen and the perfect spouse, mother and businesswoman--isn't happy that Ryan has moved in. And she's worried about how the change will affect her and Sandy's teenage son, SETH (Adam Brody), a soulful dreamer ostracized by his peers. Meanwhile, MARISSA COOPER (Mischa Barton), the heartbreakingly beautiful girl next door, seems to slide through life effortlessly--that is, until the
indiscretions of her wealthy father, JIMMY (Tate Donovan) threaten to break her world apart.

THE O.C. stars Peter Gallagher ("American Beauty," "Short Cuts"), Benjamin McKenzie ("The District"), Kelly Rowan ("Three to Tango"), Adam Brody ("Growing Up Brady"), Mischa Barton ("Once and Again") and Tate Donovan ("Murder at 1600").

From Hypnotic, Wonderland Sound and Vision in association with Warner Bros. Television Production
Inc., THE O.C. is executive produced by Josh Schwartz ("Brookfield"), Doug Liman ("The Bourne Identity"), McG ("Charlie's Angels: Full Throttle,") Dave Bartis ("Todd McFarlane's Spawn") and Bob DeLaurentis ("Providence").

(EDITOR'S NOTE: As previously announced, THE O.C will air Thursdays (9:00-10:00 PM ET/PT) this Fall.)
Fox targets key adult viewers
Bold changes fuel demo bid

By JOSEF ADALIAN
Fox will try to keep its midseason momentum going -- and challenge NBC for the demo crown -- with an ambitious fall sked boasting four new comedies and a trio of frosh dramas.
Fox is also working on a plan to produce up to 30 episodes per season of "The O.C." should the skein click with auds. Net had such an arrangement in place with "Beverly Hills, 90210" and "Melrose Place."
Despite some key changes, Fox execs believe the 2003-04 sked reps the net's most stable in years, thanks to the fact that established shows will air on every night of the week. Even Thursday night, which features new hours "True Calling" and "The O.C.," will have something of an established series on during the fall since "The O.C." is set to bow in July or early Auguest.
Move to broadcast original scripted programming on Thursday nights signals Fox belief that it finally has the product to compete on a night dominated by NBC and CBS. Net had hope to offer original scripted shows on Thursday last season, but ultimately went for a mix of news and reality.
"We know we're going to have ratings issues on Thursday night, but we think we have the goods to perform with the 12-34 audience that will be available," a Fox insider said. "We have to have patience and let these shows grow." Posted: Wed., May 14, 2003, 9:41pm PT

Posted: Tue., Apr. 8, 2003, 10:00pm PT

Fox fires up revved sked

Schwartz created and wrote the pilot for "The O.C.," with McG ("Charlie's Angels"), Liman ("The Bourne Identity") and Dave Bartis on board as exec producers; Liman directed. Benjamin McKenzie and Peter Gallagher star in the ensemble drama, which Schwartz calls a "show about this world of Newport Beach where everyone is supposed to be an informed member of the community, but we find everyone feels like an outsider.""Doug Liman did a fantastic job directing, and (Wonderland topper) Stephanie Savage has been an immeasurable help," he said.

Posted: Wed., Mar. 12, 2003, 8:24pm PT

Pilots casting hot, heavy

Deals were among many closed Wednesday as pilot castings continue at fever pitch.
Also fresh from "Mister Sterling," Donovan has joined the McG and Josh Schwartz Fox drama pilot from Warner Bros. TV and Wonderland Prods.
Donovan, repped by Gersh, will play the father of Mischa Barton's character. Adam Brody ("Gilmore Girls," "Once and Again") has been cast as Peter Gallagher's son.
"The O.C." revolves around a street-smart teen who winds up in the high-class society of Orange County. Doug Liman is directing the pilot episode.
Brody is repped by Endeavor and Gold/Levin Talent.